These panko cheddar chicken fingers are baked to a crispy, crunchy exterior while staying moist on the inside.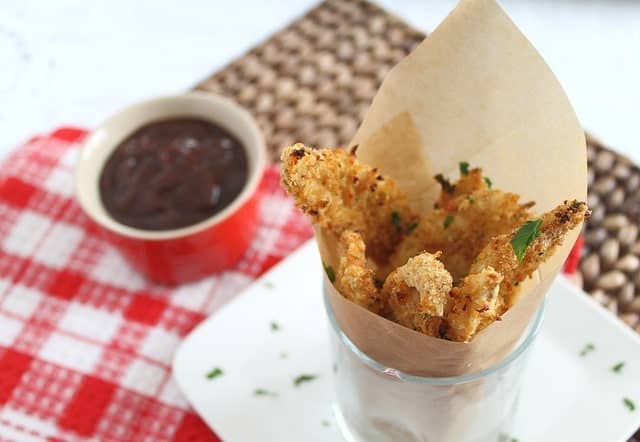 Let's be real, chicken fingers, fish sticks, fries…they're all just vehicles for condiments. Whether it's a homemade dip or a hfcs laden store bought one, (I'm not judging, that BBQ sauce there is not homemade and definitely not the picture of health) it's by far the best part about all those foods.
I have a stash of Chick-fil-A's polynesian sauce in my fridge that I've been "saving" for almost 6 months now (this is my public plea to the powers that be to get their Chick-fil-A asses north of NJ pretty please). It can't be used on just anything, it's got to be a meal worthy of such deliciousness.
This meal was definitely worthy but BBQ just seemed to go better with the whole cheddar thing going on.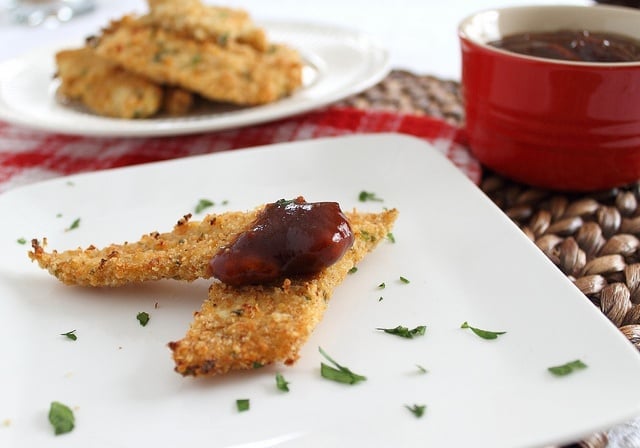 I channeled my inner southerner with these and bathed them in buttermilk before the whole "frying" (not really, they're baked) part. Honestly, I have no idea what the point of the whole buttermilk thing is, I just know they do that sorta thing down south. And southerners know their chicken. I live in NY, stores barely even carry buttermilk. But if it's to keep the chicken nice and moist inside, it worked. If not, guess it was just a lucky coincidence. Either way…yay.
Crispy, crunchy and slightly cheddar-y on the outside, moist on the inside (as long as you don't forget the oven's on broil when you put the second batch in and wonder why there's smoke pouring into your kitchen).
We watched the first episode in season 2 of Downton Abbey last night after dinner and all I could think of (while people are dying in the trenches of WWI nonetheless) is what a damn shame it was that Mrs. Patmore probably didn't make chicken fingers back then and the poor Crawley's had nothing tasty to dip into BBQ sauce.
Although I might be able to get over that if I could wear those dresses and have my own maid. Maybe.
Panko Cheddar Chicken Fingers
Total Time:
2 hours
14 minutes
These panko cheddar chicken fingers are baked to a crispy, crunchy exterior while staying moist on the inside.
Ingredients
1 lb. chicken tenders or breasts cut into "finger" size
1/2 cup buttermilk
1/2 cup panko breadcrumbs
1/4 cup regular breadcrumbs
3 tablespoons whole wheat flour
1/2 teaspoon smoked paprika
1/4 teaspoon ground mustard
1/4 teaspoon garlic powder
1/8 teaspoon cayenne pepper
1/2 teaspoon salt
1/4 teaspoon pepper
1 tablespoon parsley
3/4 cup white cheddar, finely grated
Instructions
Place chicken in a shallow dish and cover with buttermilk. Let soak for at least 2 hours, or overnight.
Preheat oven to 425 degrees. Place a wire rack on a baking sheet.
Combine breadcrumbs, flour, spices and parsley in a shallow dish/bowl.
Fold in cheese.
Dredge each piece of chicken in the breadcrumb mixture and line on rack.
Spray with olive oil or cooking spray and bake for about 7 minutes on one side.
Flip carefully, spray again and bake for 5 more minutes.
Turn oven to Hi-broil and broil for remaining 2 minutes until crispy and golden brown.
Serve warm and with favorite dipping sauce.
Notes
If you don't have buttermilk, you can make your own with regular milk and lemon juice. Use about 1/2 tablespoon of lemon juice for 1/2 cup milk.