This honey vanilla chestnut spread is delicious on toast and great on fruit.
I didn't eat a roasted chestnut until I was 20. It took living in another country and walking past a food cart that sold them everyday for 2 months before I finally caved. I have no idea how or why I resisted their intoxicating winter smell that permeated the entire block for so long because one bite into the first one and I was a chestnut fan for life. They were sold in a cone made of newspaper so by the time you finished the last one your hands were completely black from the ink. I think that's about the only time in my life I haven't minded having "newspaper hands" (major annoyance usually).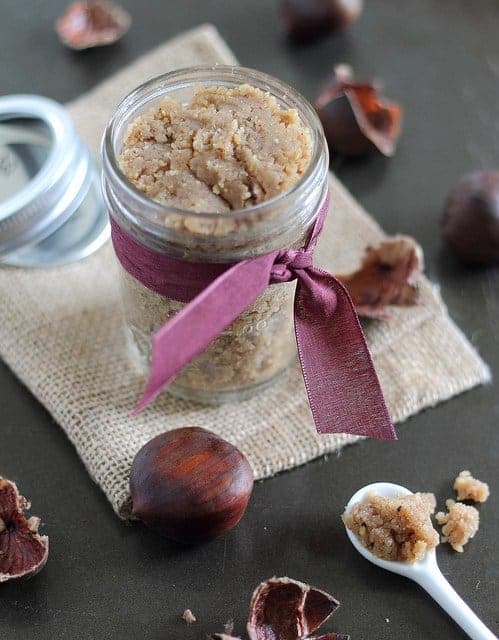 I don't know what I expected them to taste like but I do remember being completely shocked upon the first bite and my initial thought being that they kind of tasted like a potato! Not like a nut at all. Tricky little suckers.
But since "nut" is in their name, I wanted to see if I could butterize these babies like the rest of them.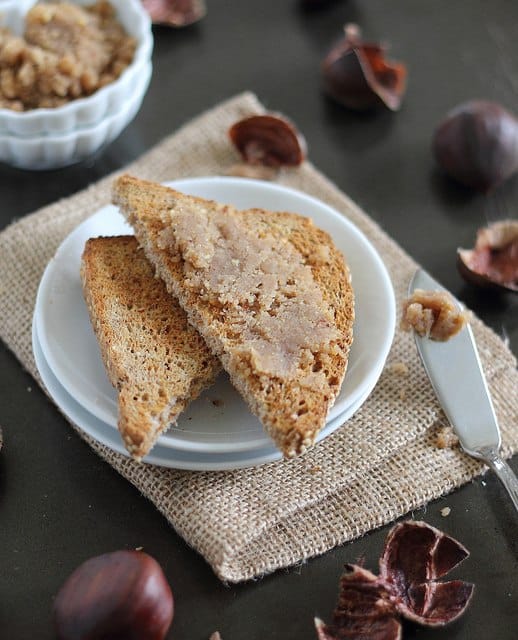 Yeah, so I didn't have so much luck with that. Apparently chestnuts don't really get creamy. Maybe it's a different oil content than other nuts? Maybe I was just too impatient (although 15 minutes is about all I can take of hearing a food processor whirl around)? Maybe I just don't even care. Because the result was still edible, still spreadable and still delicious in a roasted "potatoe-y" sweet kind of way. That's probably not a great description because who really wants to spread potatoes on their toast, but just trust me on this. It's a good kind of "potatoe-y". In less than 12 hours I've already eaten it on toast, spread on a pear, in a smoothie and stuffed in a date. So it's got some potential. Also, there were 2 full meals consumed in that time frame in addition to those things. I guess I eat a lot.
The smell and ambience of roasting them in your oven doesn't quite compare to the smoky food cart on a Christmas lit corner in Malaga, Spain, but the taste is just as good. Maybe even better since there's no black newspaper hands to deal with afterwards.
Honey Vanilla Chestnut Spread
Yield: 8 servings
Prep Time: 15 minutes
Cook Time: 30 minutes
Total Time: 45 minutes
This honey vanilla chestnut spread is delicious on toast and great on fruit.
Ingredients
1 1/4 cup chestnuts
1/4 cup walnuts
1/4 cup pecans
2 tablespoons honey
2 tablespoons melted coconut oil
1 tablespoon vanilla extract
pinch of salt
2-3 tablespoons water
Instructions
Preheat oven to 400 degrees.
Carefully score chestnuts with an "x" just piercing the shell and place on baking sheet. It'll take some force to get through the outer shell. Use a sharp knife and keep fingers out of the way!
Roast for 30 minutes until chestnuts have split open and peeled back a bit.
Remove from oven and let cool for a couple of minutes until you can handle them. Remove shell from chestnuts and place flesh in a food processor. Make sure to peel them while they're still warm/hot as it's much easier than when they cool.
Add walnuts and pecans to the food processor and process for about 2-3 minutes until finely chopped.
With the food processor running, add the coconut oil. Let it continue processing for about 2-3 more minutes then add honey, vanilla and salt.
Scrape down if needed then continue processing and add water until the mixture starts to come together a bit more.
Stop the food processor when the mixture can be pinched together with your finger and is essentially "spreadable". It will not be as creamy as a regular nut butter.
Store in an airtight container in the fridge.