These Greek brown rice bowls are filled with everything you love about a gyro and a Greek salad combined, flavorful lamb, pickled red onions, cucumbers and of course, feta!
This week is all about bowl meals. Fact: when your whole meal fits into one cozy little bowl, it just tastes better. We had strawberry coconut polenta breakfast bowls yesterday and today, we're doing Greek brown rice bowls.
This post is sponsored by the Healthy Aperture network and USA Rice as part of their #ThinkRice campaign.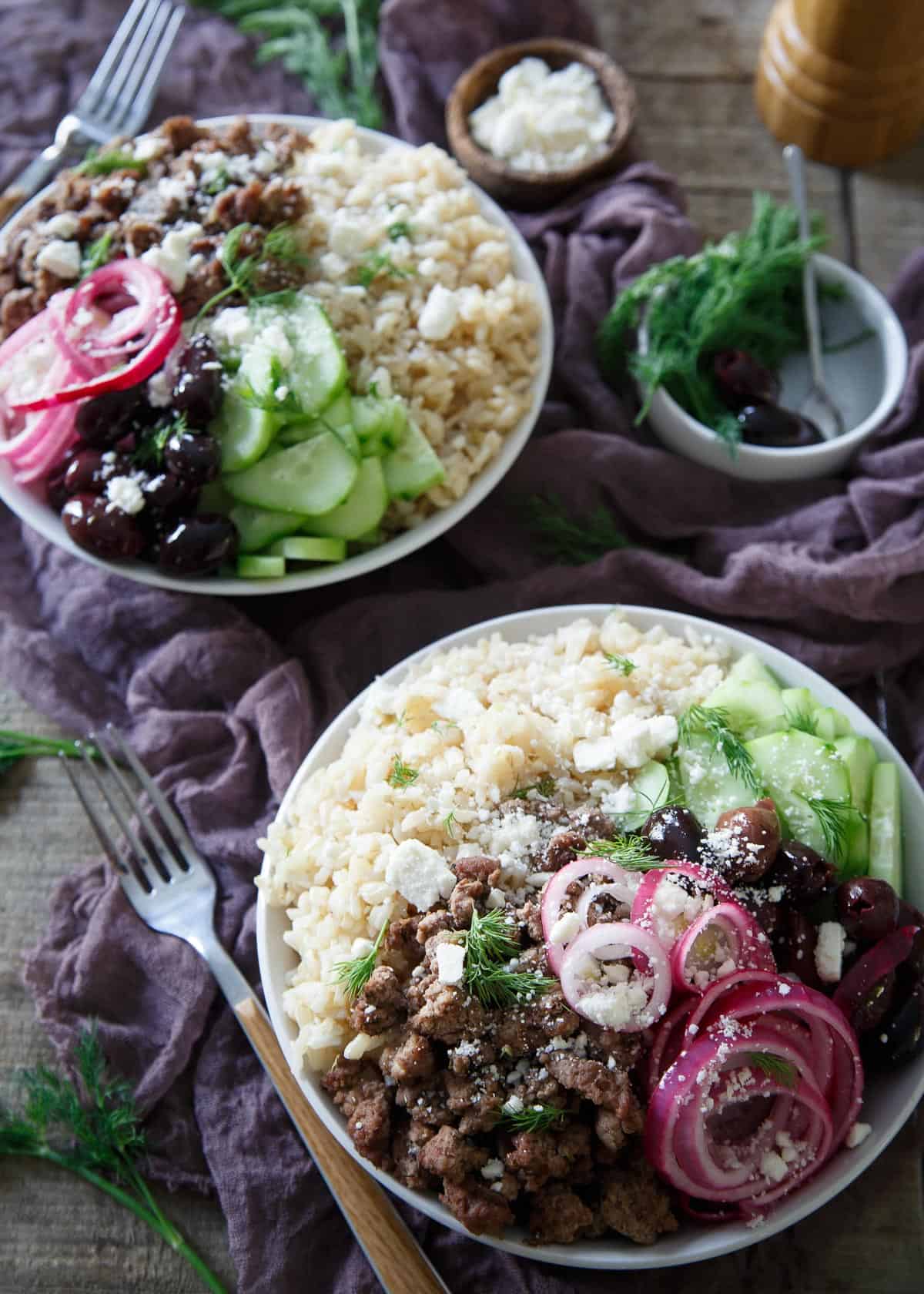 If a gyro platter and a Greek salad had a (hairy) little Greek baby, this Greek brown rice bowl would be it. And if you swap gyro meat or beef in this case for shrimp, you'd get this Greek shrimp skillet – another great one to try!
Gyros are great but tzatziki sauce is messy as heck (and leaves you with garlic breath for a year) and Greek salads are refreshingly tangy and awesome but are definitely missing the substance to keep you full enough to call it a complete meal.
Enter Greek brown rice bowls.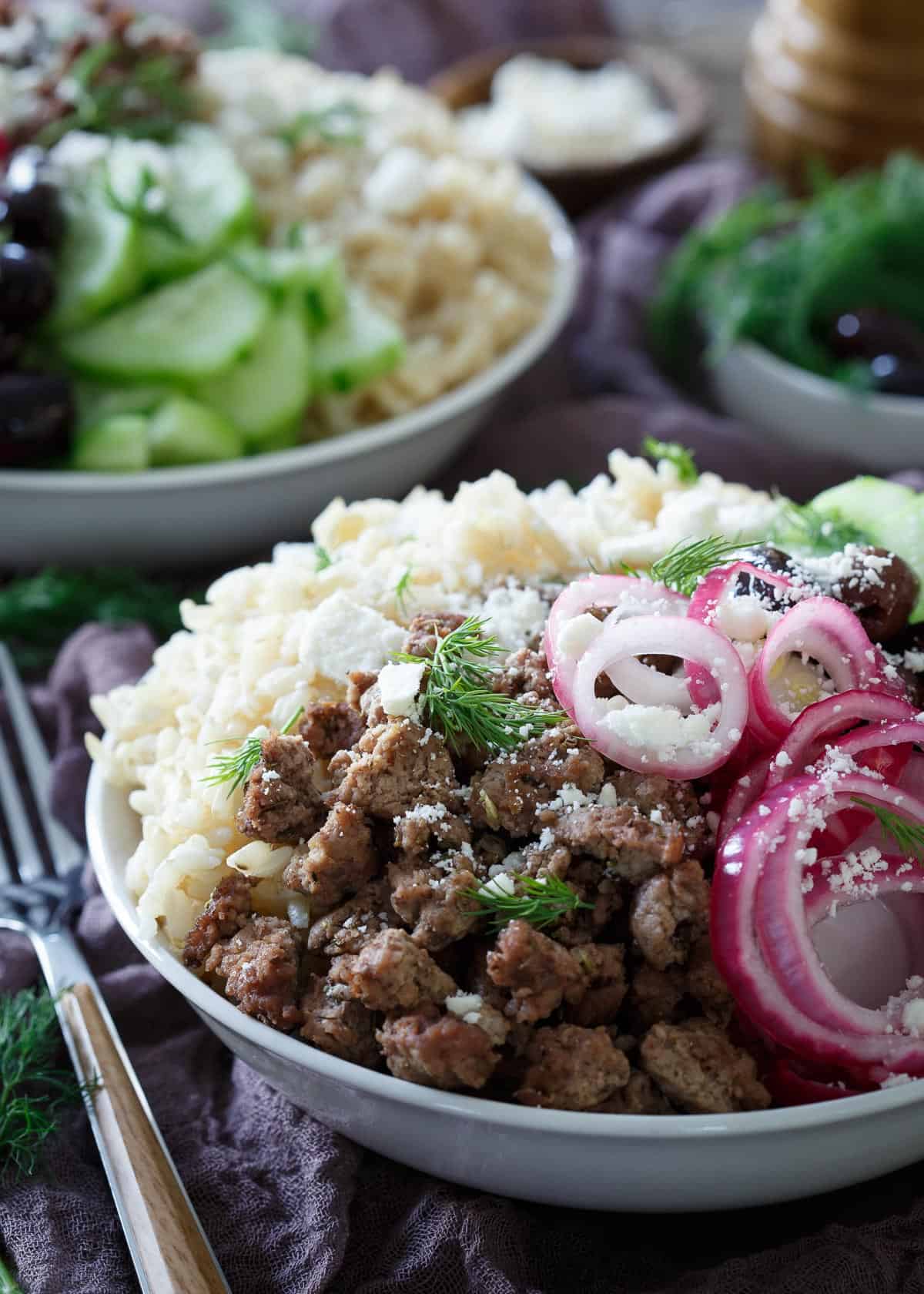 I somehow got off the rice train for about a year. I'm not really sure how it happened, but my plastic container dedicated to brown rice in the cabinet seemed to sit unused for far too long.
Then, back in October, I started my nutrition plan with Renaissance Periodization and quickly came to realize 1 cup of cooked rice was my new bff to get my post workout carbs in. Not only do I get a lot more bang for my buck than with potatoes or pasta, U.S.-grown rice (look for the "Grown in the USA Rice" logo on packages to ensure nutrition and help reduce miles your food travels to get to your plate) is easy to cook (white rice literally takes minutes on the stove top) and a nutritional powerhouse.
It also happens to make the perfect base for many a "rice bowl" recipes (check out this spicy beef and red pepper rice bowl and this tuna sushi bowl for more easy rice bowl meal ideas) like this Greek brown rice bowl.
I can tell you the Greek husband was quite pleased with this one, gobbling it up in minutes before heading out to work a night shift but don't worry, Greek genes aren't required to love this quick, easy and nutritious meal.
For more rice recipes connect with USA Rice on Pinterest, Instagram and Facebook.
Yield: 4 servings
Greek Brown Rice Bowls
These Greek brown rice bowls are filled with everything you love about a gyro and a Greek salad combined, flavorful lamb, pickled red onions, cucumbers and of course, feta!
Ingredients
1 cup uncooked USA grown brown rice
2 cups water
1 pound ground lamb
1 tablespoon extra virgin olive oil
1 teaspoon oregano
1/2 teaspoon dill
salt and pepper to taste
1 medium red onion, thinly sliced into rings
1/3 cup distilled vinegar
1/2 large cucumber, peeled and cut into half moons
1/3 cup pitted kalamata olives
1/4 cup crumbled feta
fresh dill for garnish
Instructions
Place the sliced onions in a small bowl, cover with the vinegar and set aside to quick pickle while you prepare the rest of the meal.
Add rice and water to a small sauce pot. Bring to a boil, stir, then cover, reduce heat to low and let simmer until rice absorbs all the liquid.
While rice cooks, place the olive oil in a large skillet over medium heat.
Once hot, add the lamb. Cook until browned, breaking into small pieces as it cooks with a spatula. Drain off the excess liquid/fat from the pan, return to the heat and add the oregano, dill, salt and pepper. Toss to combine, remove from heat and set aside.
Assemble by spooning rice into 4 servings bowls. Evenly distribute the lamb, cucumbers, kalamata olives and pickled onions (drained from vinegar) around the bowls. Sprinkle with feta and garnish with fresh dill before serving.