Winter happy hour just got a whole lot more delicious with this refreshing, sweet, tart and bright vodka grapefruit martini.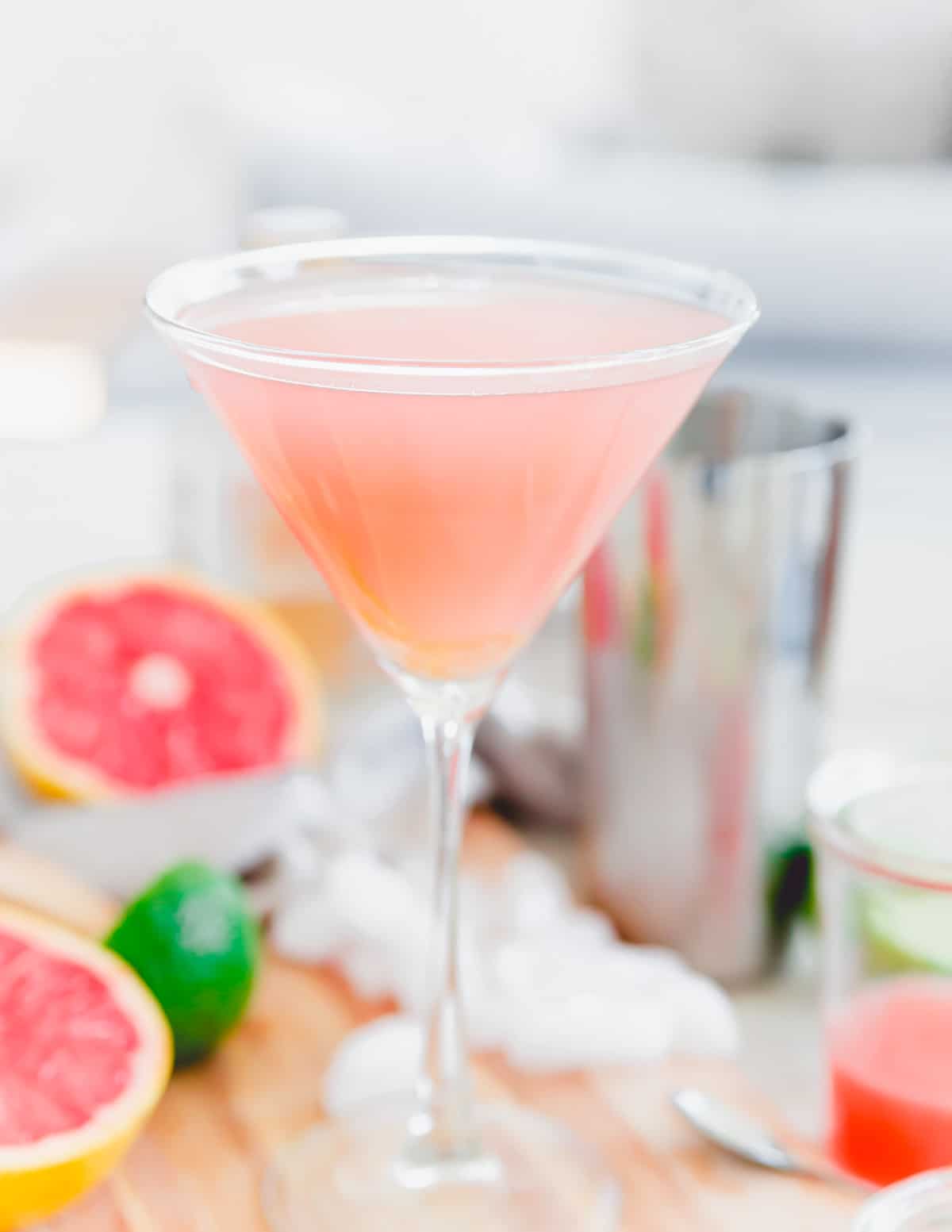 I'm having a moment with grapefruits right now.
Honestly, winter citrus is one of the few redeeming features of the season and yesterday I spent almost $3 on a single sumo citrus at Whole Foods to have something to look forward to after dinner.
If the sun is going to set at 5pm and it's miserably gray, cold and wet outside pretty much every day, at least there's bright citrus fruit to enjoy.
That's what this grapefruit martini is all about, it's a seasonally relevant cocktail that will liven up a dreary winter day with its refreshing sweet and tart taste.
The combination of fresh grapefruit and lime juice paired with a bit of orange liqueur is winter epitomized in a martini glass.
With a healthy pour of vodka of course.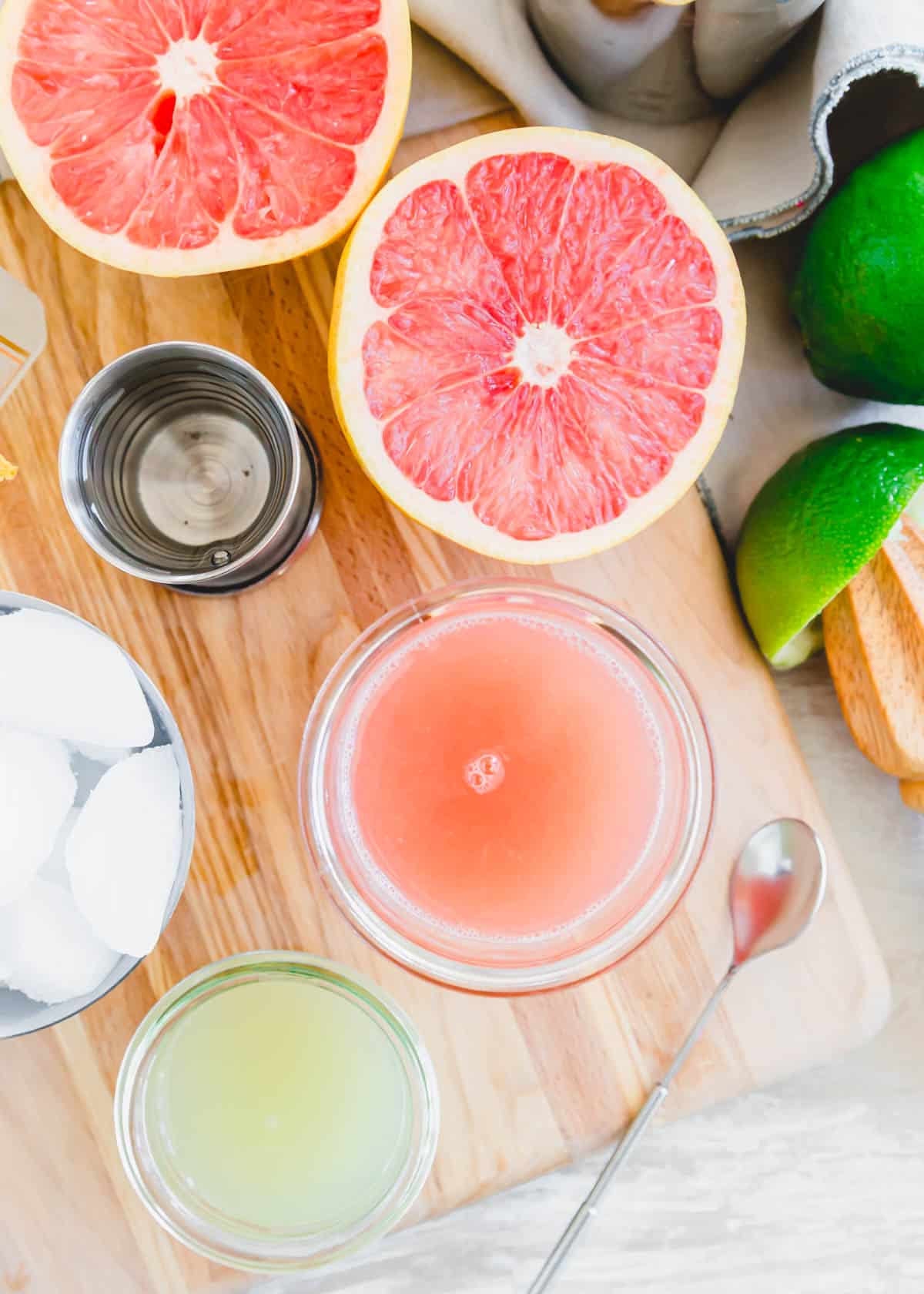 HOW TO MAKE A GRAPEFRUIT MARTINI
INGREDIENTS
Grapefruit juice – use freshly squeezed juice. I know grabbing a container of Ocean Spray is tempting but just don't do it. Depending on the size of the fruit, the 3 ounces needed for one cocktail is only about half a grapefruit (a full one at most if it's small).
Lime juice – same goes for the lime juice, fresh is best.
Vodka – this is a vodka grapefruit martini so choose your favorite brand.
Orange liqueur – a touch of orange liqueur such as Cointreau is a nice replacement for the vermouth traditionally used in a classic martini recipe. If you leave this ingredient out, you've basically made a Greyhound drink instead which is just gin or vodka paired with grapefruit juice.
DIRECTIONS
Fill a cocktail shaker with ice until about 3/4 full. Add all the ingredients and affix the lid.
Shake vigorously until the mixture is well chilled.
Using a strainer, pour the cocktail into a martini glass.
Optional garnishes include grapefruit zest, a slice of grapefruit or lime or, some fresh mint leaves.
The recipe is easily doubled, tripled or quadrupled for a crowd.
WHAT IF I DON'T HAVE A SHAKER?
If you don't have a cocktail shaker on hand, grab a mason jar instead. Screw the lid on before shaking and it will work just as well.
Pour the martini through a fine mesh strainer into the martini glass to make sure any of the pulp from the citrus stays behind.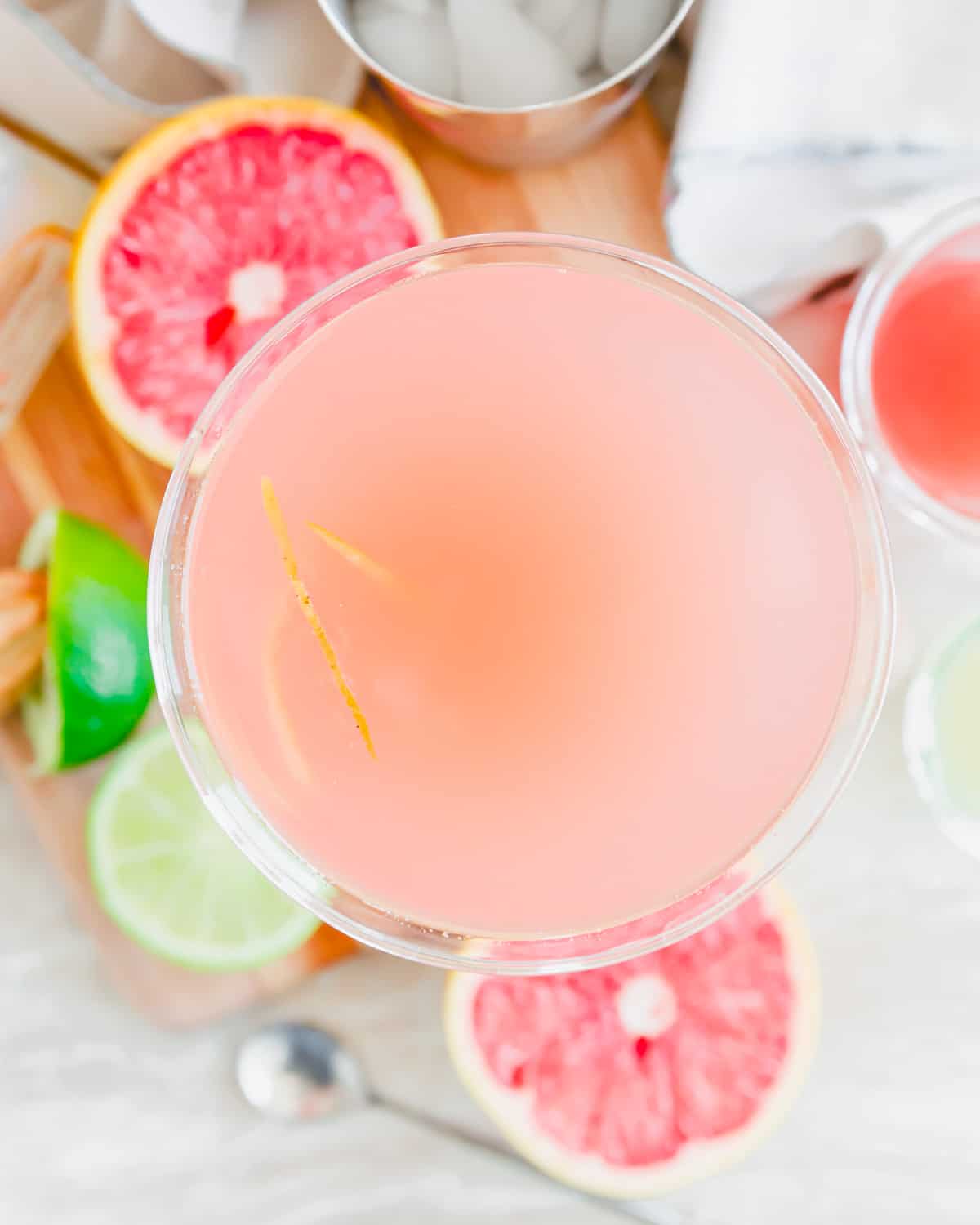 CAN I USE GIN?
If you prefer a gin martini (I do if I'm drinking a classic one), feel free to swap in gin for the vodka in this cocktail while keeping all the other ingredients the same.
Prefer a rum drink? Try this delicious rum sour.
SHOULD I RIM THE GLASS?
You can certainly coat the rim of the martini glass with either salt or sugar to go along with the martini depending on your preference.
The martini is a sophisticated drink though and I personally prefer the glass left bare like a traditional cocktail would be.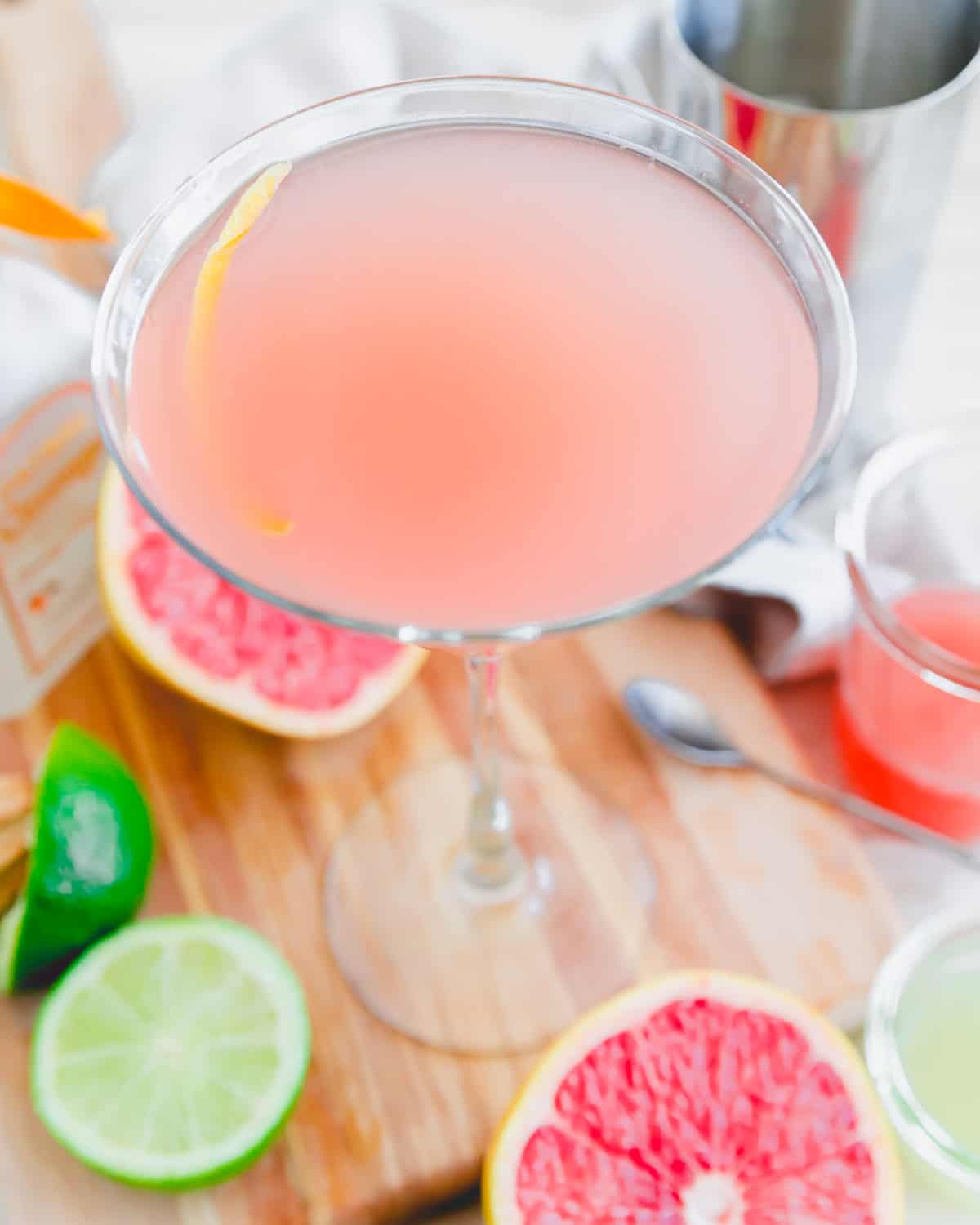 WHAT DOES THIS GRAPEFRUIT MARTINI RECIPE TASTE LIKE?
It's bright, very refreshing while being both sweet and tart at the same time. The balance of sweet and tart flavors will vary depending on the grapefruit you select.
Ruby red grapefruits tend to be a bit sweeter than pink grapefruits but this can really vary fruit to fruit.
The martini is a bold drink so while the fruit tempers the alcohol a bit, it's still vodka forward.
Because of its refreshing nature, this is also a great summer drink if you can find a decent grapefruit.
The color also can't be ignored. It's perfect for any girls night or female get together when cocktails are in order! This strawberry salty dog is another 'pretty in pink' cocktail.
MAKING A MOCKTAIL
Not feeling the booze? No worries, swap out the vodka (or gin) and orange liqueur for seltzer or club soda.
An orange flavored seltzer would be ideal or simply add some fresh squeezed orange juice into plain sparkling water.
This sparkling grapefruit jello is a fun bubbly dessert-like version of a grapefruit mocktail.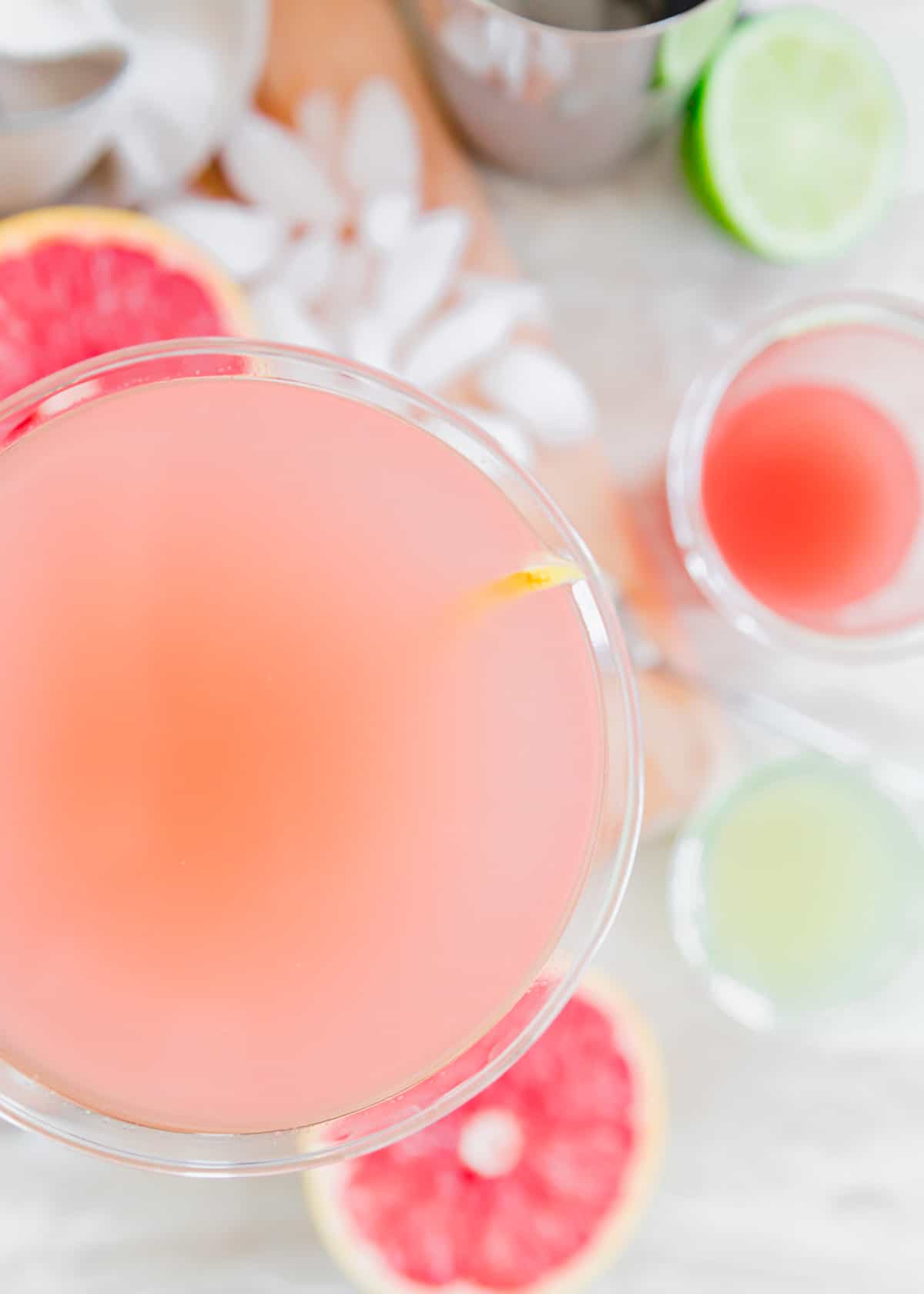 PAIRING IDEAS
If you're hosting a get together and looking for some good food to complement this red grapefruit martini, here are a few tasty bites:
These roasted grape sweet potato crostini scream sophistication (like a martini) but are pretty easy to whip up.
For a summertime gathering, try these hummus flatbread with grilled corn and berries.
Ricotta sage honey stuffed prunes are a more upscale version of stuffed dates and quite delicious.
Or, make a batch of this grilled scallop citrus ceviche and serve with chips to carry on with the citrus theme.
Grapefruit Martini
A refreshing, bright, sweet and tart vodka grapefruit martini cocktail. Enjoy the best of winter citrus in this easy to make drink.
Ingredients
3 ounces freshly squeezed grapefruit juice (pulp removed)
1 ounce freshly squeezed lime juice (pulp removed)
2 ounces vodka
1 ounce orange liqueur (such as cointreau)
ice
grapefruit zest for garnish
Instructions
Add ice to a cocktail shaker then pour in the grapefruit juice, lime juice, vodka and orange liqueur.
Shake vigorously until chilled.
Using a strainer, pour the drink into a martini glass.
Garnish with grapefruit zest (or a slice of grapefruit/lime) and serve.
Nutrition Information:
Yield:

1
Serving Size:

1
Amount Per Serving:
Calories:

312
Total Fat:

0g
Saturated Fat:

0g
Trans Fat:

0g
Unsaturated Fat:

0g
Cholesterol:

0mg
Sodium:

4mg
Carbohydrates:

31g
Fiber:

2g
Sugar:

16g
Protein:

2g
This website provides approximate nutrition information for convenience and as a courtesy only. Nutrition information can vary for a variety of reasons. For the most precise nutritional data use your preferred nutrition calculator based on the actual ingredients you used in the recipe.