Use fennel in this fennel chicken cheddar panini to mellow the flavor a bit but still have a fun crunchy licorice taste.
I hate licorice. Actually, hate is a very mellow way of putting it. Despise would be better. Doesn't matter if it's red, black, purple, yellow or neon green, (and now the scene in Wizard of Oz with the horses changing color is stuck in my head) it's all the same kind of disgusting.
So you might be wondering why the heck I'm throwing a fennel panini in your face when most would say fennel tastes like licorice.
Me too.
Here's the thing, I love fennel.
First of all, how can you not love something as crazy-ass looking as that? I look at it and see a Mickey Mouse head crossed with a furry little alien. It's freaky and cute at the same time.
I have no good explanation for why the candy can repulse me and yet this bulb, vegetable, whatever it is can taste so delicious while imparting the same flavor. Maybe it's my general aversion to candy (just to be clear candy does not include chocolate) or maybe I'm just weird. Most likely both.
After munching on half the bulb while putting together a random panini for lunch, I decided to throw in some of the fennel for the heck of it. For a last minute decision, it definitely stole the show flavor wise with it's bold licorice-y taste.
Things I would suggest doing while making a fennel panini:
1. Definitely add apple + cheddar. The added crunch is fun and the cheese helps mellow out the fennel a bit.
2. Butter your toast. Always. It makes all the difference in "paninifying"
3. Don't wipe off the crumbs from the 15 inch serrated bread knife with your fingers and expect not to slice half way through one of them.
Just some basics, you know?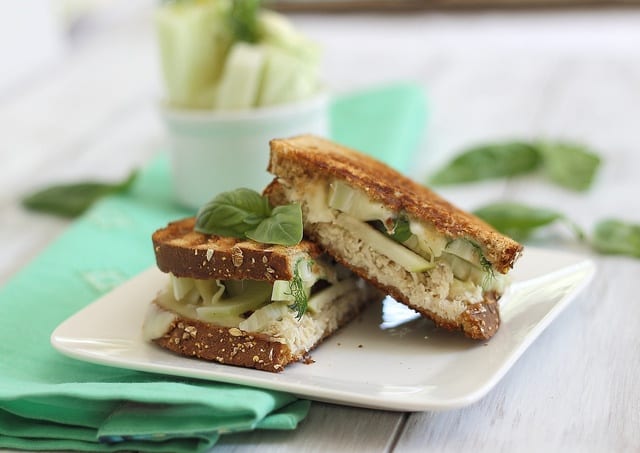 But even if #3 does happen, the result is still worth it and better for you than the candy.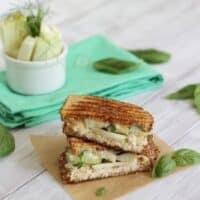 Fennel Chicken Cheddar Panini
Yield: 1 servings
Prep Time: 5 minutes
Cook Time: 5 minutes
Total Time: 10 minutes
Use fennel in this fennel chicken cheddar panini to mellow the flavor a bit but still have a fun crunchy licorice taste.
Ingredients
2 slices of whole wheat bread
1/2 a small apple, sliced
1/4 cup fennel, sliced
1/4 cup cooked shredded chicken
4 slices sharp cheddar
3-4 basil leaves
butter
Instructions
Spread butter on one side of each slice of bread.
Layer all the other ingredients on the reverse side of the bread and form a sandwich.
Press in a panini maker or in a skillet using something heavy to press down on the top of the sandwich until the cheese starts melting and the bread is toasted and brown.
Enjoy warm.
Nutrition Information:
Amount Per Serving:
Calories: 148.3
Total Fat: 2.01g
Carbohydrates: 25.53g
Protein: 7.27g