A copycat version of the famous Panera creamy tomato soup. Dairy free!
Ok, so let's talk about Panera. And if you're in the maybe 1% of people who haven't been there, I apologize. I have a love hate relationship with them. Hate that those delicious pastries tempt me from the second I get in line, ab-so-freaking-lute-ly love their creamy tomato soup. Love it. As in want to start a petition on increasing the size of their soup bowls for just that soup alone. Last year I even made my own at home version which is pretty darn kick-ass if I do say so myself.
Fast forward a year later though and my eating habits have changed slightly. As in, that parmesan cheese, brown sugar and heavy cream that went in my first version aren't things I'm stocking in my house anymore (ok, I do still have some brown sugar in the pantry for cookie emergencies). But not eating creamy tomato soup all winter just isn't an option. The creaminess is by far the best part of their soup so I knew I wanted to mimic that somehow rather than come up with some pathetic paleo brothy cousin in this newer version.
Enter cashews.
Which can turn into cashew paste. Which can then turn into cashew cream. Which will then undoubtedly make you do a happy dance in your kitchen when you taste it.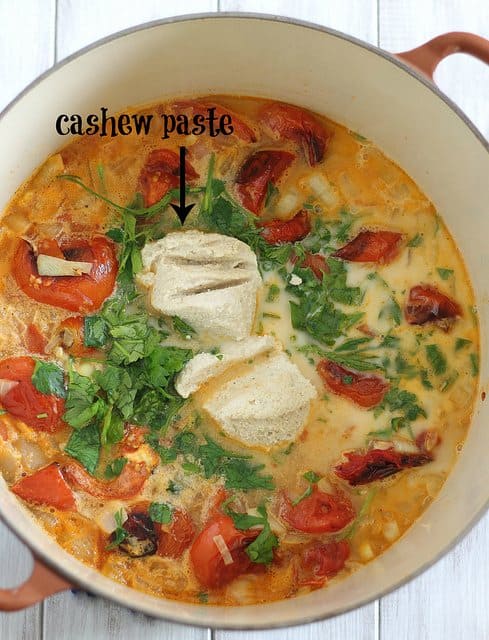 I'm going to go with the fact that luck must've just been on my side the afternoon this was made because, guys, this tastes even more like Panera's tomato soup than the first one. And, there's no dairy. It's like the vegan/paleo gods aligned and gave me this one moment in time (cue the Whitney lyrics).
Cashews ftw.
Copycat Panera Creamy Tomato Soup
Yield: 4 servings
Prep Time: 10 minutes
Cook Time: 1 hour
Total Time: 1 hour 10 minutes
A dairy-free copycat version of the famous Panera creamy tomato soup.
Ingredients
1 cup cashews
8 large plum tomatoes, quartered
1 head of garlic
2 tablespoons balsamic vinegar
2 tablespoons extra virgin olive oil
1 tablespoon butter
1 large yellow onion, chopped
2 cloves garlic, minced
1 1/2 cup chicken broth
1 cup almond milk, plus 1/2 cup more divided
1/2 cup parsley, chopped
Instructions
Place cashews in a small bowl, cover with water and soak for one hour.
Preheat oven to 400 degrees. Line baking sheet with tin foil.
In a large bowl, combine tomatoes, vinegar, olive oil and salt & pepper and toss to combine. Spread out on baking sheet.
Cut the top of the garlic head off, drizzle with olive oil, wrap tightly in tin foil and place on baking sheet with tomatoes.
Roast for 45 minutes.
Meanwhile, add soaked cashews and 1/4 cup of the almond milk to a food processor. Process until a paste forms, scraping down sides as needed. Set aside.
When there's about 10 minutes of roasting time left, heat large heavy bottomed pot over medium-high heat.
Add onions and garlic and saute until softened, about 5-7 minutes.
Once tomatoes and garlic are done, add to pot (squeezing the roasted garlic out of the cloves) and cook for about 5 minutes.
Add broth, 1 cup almond milk, parsley, 1/2 cup of the cashew paste and salt & pepper. Cook uncovered on a low simmer for another 15 minutes.
Remove pot from heat and transfer soup to a blender. Blend (in batches if necessary) until smooth. Alternatively, an immersion blender could be used.
Season to taste. Set aside.
Add remaining cashew paste to blender with the remaining 1/4 cup almond milk and blend on high until a creamy consistency forms. Transfer to a small bowl.
Serve soup while warm adding as much cashew cream as desired on top. Garnish with extra parsley.
This post is part of the DailyBuzz Food Tastemaker's program. I received a stipend to taste Panera's soups and create an original recipe. Opinions and content are my own.