This is an easy, 15 minute coconut red curry shrimp recipe. Perfect for a quick dinner.
Things crazy food bloggers do:
1. scatter garnishes all over the place for "background."
2. rush home from Crossfit to be able to make dinner and photograph it in natural light.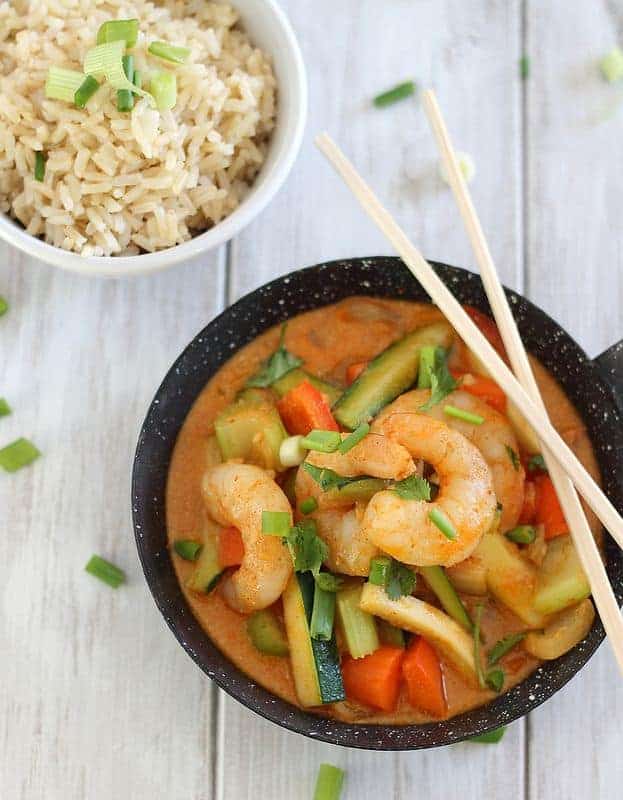 3. eat dinner at 5pm like senior citizens in the winter to accomplish #2.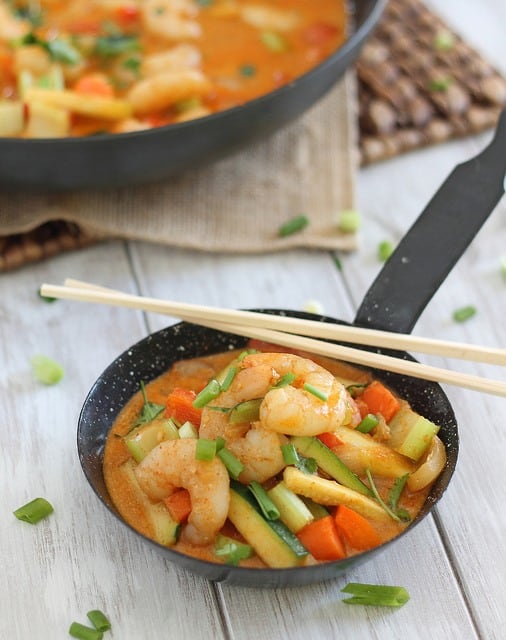 4. buy a 1 serving wok/skillet thingy at a thrift store in California that can't actually be used on the stove.
5. walk into the local sushi place and ask for a pair of chopsticks without even eating there and walk out.
6. make rice for a photo shoot with no intention of actually eating it. (good thing for non-paleo husbands)
7. make a damn good red curry.
Staring at the pictures in this post made me laugh at how many ridiculous things I did in order for them to appear in this post as they do. And then I had to laugh some more because I literally just got back from purchasing sticky tiles and 4 random slate pieces for new photo backgrounds from home depot an hour before writing this.
What has my life come to? Seriously.
More shrimp recipes like this coconut red curry shrimp to try:
Greek Shrimp Skillet
Brown Butter Shrimp with Parmesan Basil Corn Orzo
Kung Pao Shrimp
Sweet and Spicy Mango Shrimp
Coconut Red Curry Shrimp
An easy 15 minute red curry shrimp recipe with the perfect balance of creamy coconut and spice.
Ingredients
1-11/2 lb. large shrimp, devained & tails removed
1 tablespoon coconut oil
2 cloves of garlic, minced
1 tablespoon minced fresh ginger
1/2 a large zucchini, sliced into 2 inch strips
1 red pepper, chopped
3 stalks celery, chopped
1 carrot, chopped
1/2 medium yellow onion, chopped
1 1/2 tablespoons red curry paste
1/4 teaspoon red pepper flakes
2 tablespoons fish sauce
8 oz. light coconut milk (from a can)
Instructions
In a large skillet or wok over medium-high heat, melt coconut oil.
Add garlic and ginger and saute for about 1 minute until fragrant.
Add all vegetables and saute for another 5 minutes until softened.
Add shrimp and then curry paste and toss to thoroughly coat all the vegetables and shrimp with the paste. Saute for another minute.
Add the red pepper flakes, fish sauce and coconut milk and cook until shrimp are cooked through, about 3-5 more minutes.
Season with salt & pepper to taste.
Garnish with cilantro or scallions and serve with rice.
Nutrition Information:
Amount Per Serving:
Calories:

266.46
Total Fat:

15.79g
Carbohydrates:

23.39g
Protein:

6.12g