This chocolate coconut almond butter dip is part nut butter, part chocolate fondue and equally delicious as both.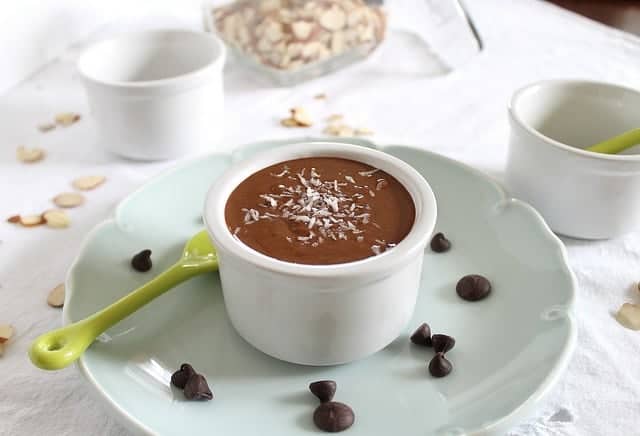 I've either been dating, engaged or married to Ulysses for over 13 years. In that time, I could count on one hand the amount of times we've seen a chick flick movie in the theater and this is in the context of (easily) over 100 movies we've seen in a movie theater. Of those handful of chick flicks, at least 2 of them would be because of Matthew McConaughey's starring role and my husband's borderline inappropriate obsession with him. We're on a first name basis with Matthew in this household. Weird? Yes.
So, you might imagine my jaw dropping reaction yesterday as we drove past the $3 movie theater and Ulysses turns around from reading the sign of what movies were playing to say "Ooooh, ooooh, oooh! Twilight is playing! Can we see it? We could go on Valentine's Day!" like an Edward crazed 15 year old girl.
Um, who are you and what the hell have you done to my husband?
First, you turn down wannabe apple pies and now you're BEGGING me to see Twilight?
This should be my dream situation though, right? He never wants to see chick flicks but now I've got him basically pleading to see the chick flick of ALL chick flicks (or at least of this decade).
Wrong.
I cannot stand the twilight craze.
I didn't read the books. I HATE vampire storylines. I'm grossed out by the extreme paleness going on between Edward and Bella. And honestly, Bella irks me to my core. I'm not sure it's possible to get any more pathetic than her. Her obsession with Edward and her helplessness without him sickens me.
And, now I sound like the biggest feminist in the world.
The kicker? The movie only plays at 3:50 and 9:10. Obviously, the first showing is out because of this thing called a j-o-b. So we're left with 9:10. I can't even think of a weeknight in the past year that I haven't been in pajamas by 9pm, if not before.
Valentine's Day for her….make dinner at home and chocolate almond butter dip for dessert.
Valentine's Day for him…see Twilight.
What did I say about opposites attracting?
Chocolate Coconut Almond Butter Dip
This chocolate coconut almond butter dip is part nut butter, part chocolate fondue and equally delicious as both.
Ingredients
1 1/2 cup raw almonds
1/3 cup dark chocolate chips
1/2 tablespoon coconut oil
1/4 teaspoon vanilla extract
1/8 teaspoon kosher salt
Instructions
Preheat oven to 350 degrees. Roast almonds for about 10 minutes until just toasted.
Let cool for 2-3 minutes then place in food processor.
Process for about 10 minutes, scraping down sides occasionally until smooth, creamy nut butter forms.
Melt chocolate chips and coconut oil together in a small saucepan over low heat.
Pour chocolate/coconut mixture into food processor with the almond butter. Add vanilla & salt and process for another minute until fully incorporated.
Pour into jar or ramekin. Keep refrigerated.