These chocolate berry chia coffee parfaits are made with creamy Oikos greek yogurt and crumbled chocolate belVita biscuits for a quick, healthy and delicious breakfast.
I have partnered with belVita & Dannon to help promote the Dannon & belVita partnership. I have been compensated for my time commitment to the program, which includes writing about the promotion and product. However, my opinions are entirely my own and I have not been paid to publish positive comments.
In a different life I used to wake up at 6am daily, shower, dress myself in clothes other than those appropriate for the gym, eat breakfast and somehow make it to work by 8am.
These days, if for some unfortunate reason I need to be out of my house before 9am, I'm a hot mess running around trying to pick out "real" clothes, do my hair, feed the dog and get the coffee brewing all in about 30 minutes because I've likely pushed my alarm off by at least 5 snooze buttons worth of time. The only chance I actually have at eating breakfast is if I prepared something the night before because while delusions of waking up early, sipping coffee at the computer while the sun rises and enjoying an early morning float around in my head, they're just that, delusions.

belVita and Dannon Oikos recently paired up to show how easy it is to fit in a quick and convenient breakfast that's still nutritious. While I'm all for a yogurt or a biscuit on the go, I decided to combine two of their tips for a sane morning by planning out my day the night before and spending a few minutes putting together a coffee infused yogurt parfait filled with fresh strawberries, chia seeds and crumbled chocolate biscuits, something that took all of 10 minutes to put together, could be refrigerated overnight and just easily grabbed in the morning and enjoyed without any additional prep.
The combination of the belVita biscuits and the Oikos yogurt gives you a nice boost of steady energy and protein to start your day. And who doesn't love an extra kick of coffee hidden in there too?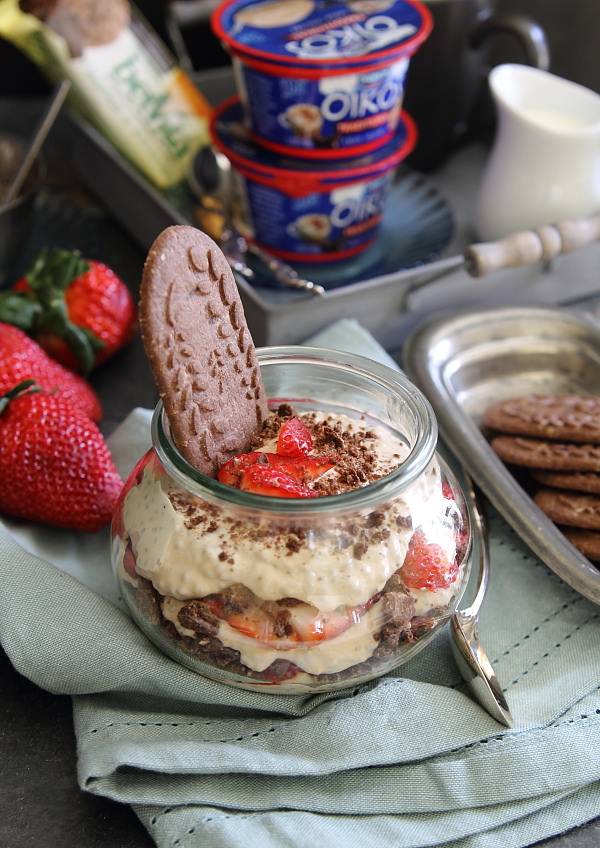 So instead of the usual morning chaos, yesterday was a bit less crazed when we had to leave at 8am to head down to my brother's house for Easter knowing I could just grab breakfast out of the fridge, hop in the car and go. Unless you count the 5 dogs and 15 people under one small 1,300 square foot roof, the couch we had to load in the pick-up truck and bring with us or, the fact that we almost ran out of gas on the way there (when gas is 50 cents cheaper a gallon across the state line and you're driving a 12 mpg truck, you push that thing until the light comes on). But at least breakfast was easy.

Ingredients
2 5.3

ounce containers Oikos plain greek yogurt (*see note)

1/4

cup strongly brewed coffee

2

tablespoons chia seeds

3

chocolate belVita bisquits, crumbled

6

strawberries, thinly sliced
Instructions
Mix the yogurt, coffee and chia seeds together in a small bowl.
In two glasses, spoon a layer of yogurt on the bottom. Top with sliced strawberries and crumbled biscuits.
Repeat twice more to create 3 layers.
If making the night before, cover with plastic wrap and refrigerate.
Recipe Notes
*You can also use coffee flavored yogurt either in place of the brewed coffee or in addition to for an added cofffee flavor.
Connect with
Dannon Oikos
,
twitter
,
facebook
Connect with
belVita
,
twitter
,
facebook