This BBQ black bean tortilla pizza makes a great game day appetizer or a tasty cheesy dinner.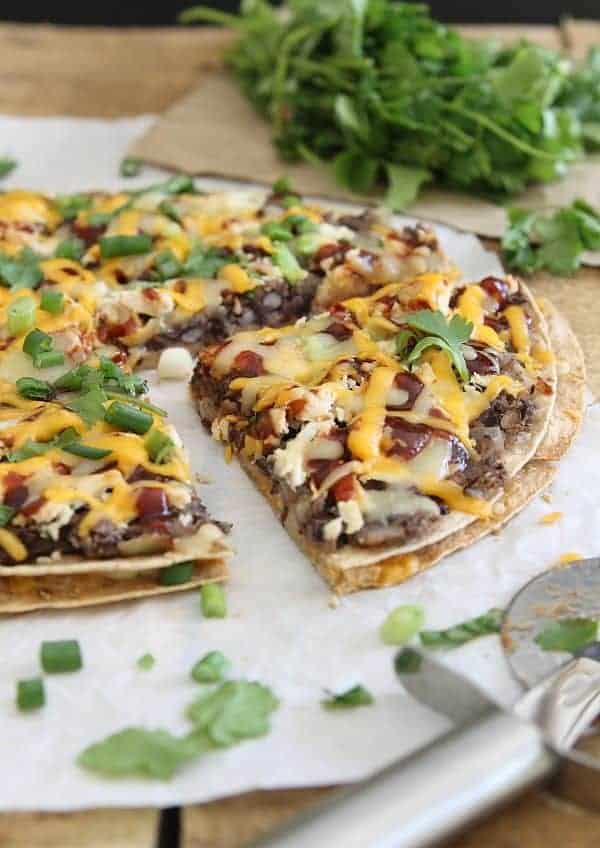 You know what saying bothers me?
"Man food"
We throw meat, potatoes, sauces and boat loads of cheese on stuff and give it that label.
But in reality, what woman wouldn't want to eat that too?
I also can't tell if it's meant to be derogatory towards men and their simplistic taste or a strike against women implying they shouldn't eat like that.
If it's the former, ok maybe. I mean, men can be simplistic. Case in point, this phone convo yesterday.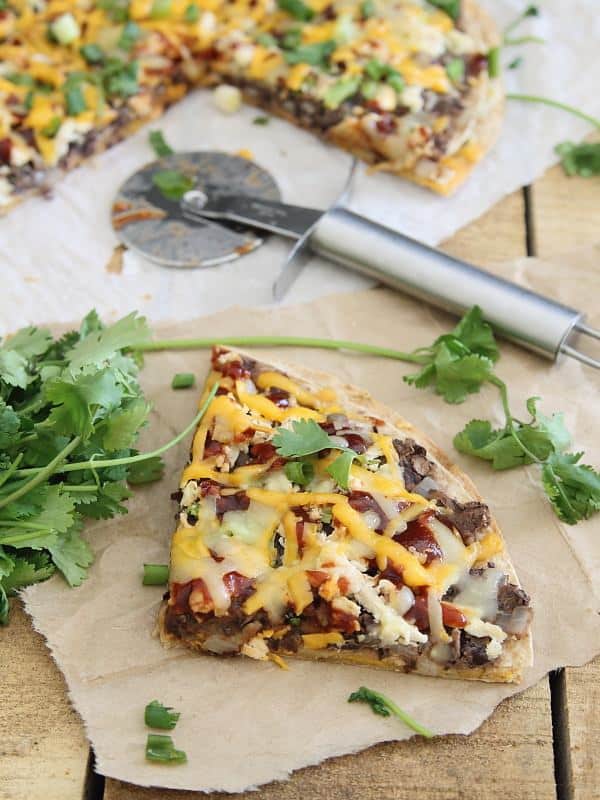 Ulysses: "they don't have zucchini (he was at the grocery store and I told him to pick up 4 zucchini for an upcoming recipe), they have Italian squash."
Me: "is it green?"
Ulysses: "yeah"
Me: "that's zucchini, babe"
If it's the latter, back the hell off. I will eat anything and everything with boat loads of cheese, sauce and meat.
So I vote we change recipes like that to "people food".
Because if you can't get behind a cheese stuffed tortilla, smashed black beans, bbq chicken and lots of cheddar cheese, you're not human.
ps- Superbowl. Make this.
Love this BBQ black bean tortilla pizza recipe?
Try these other pizza recipes: Skillet Zucchini Pesto Pizza, Roasted Eggplant Fennel Pizza with Whipped Garlic Feta and Sage Chorizo Sweet Potato Naan Pizza.
BBQ Black Bean Tortilla Pizza
This BBQ black bean tortilla pizza makes a great game day appetizer or a tasty cheesy dinner.
Ingredients
2 8-inch whole wheat tortillas
3/4 cup grated cheddar cheese, divided
3/4 cup grated pepper jack cheese, divided
1/2 tablespoon extra virgin olive oil
1 15-ounce can black beans, drained & rinsed
1 small yellow onion, chopped
1/2 teaspoon cumin
1/2 teaspoon smoked paprika
salt & pepper
1/2 cup cooked, shredded chicken
1/4 cup BBQ sauce
green onions for garnish
cilantro for garnish
Instructions
Heat oven to 350 degrees, grease a baking sheet with spray.
Lay one tortilla on the baking sheet, sprinkle 1/2 cup of cheddar and 1/2 cup of pepper jack evenly on the tortilla. Top with the other tortilla and bake for 5 minutes until the cheese is melted. Remove from oven and set aside.
In a skillet over medium-high heat, cook the beans and onions with the olive oil for 5 minutes. Add the spices, salt & pepper.
Transfer the beans to a small bowl and mash coarsely with a fork or potato masher.
Spread the bean mixture on top of the tortilla.
Top with the chicken.
Drizzle the BBQ sauce on top of the chicken.
Sprinkle the remaining cheeses on top and bake for another 7-10 minutes until melted and bubbly.
Remove from the oven, garnish with green onions and/or cilantro.
Cut into slices with a pizza cutter and serve.