These zucchini feta olive oil muffins are delicious, savory and moist. The perfect accompaniment to a bowl of soup.
So, let's talk about this whole "run to the store and stock up on food" thing people do in weather emergencies. Does it seem odd to anyone else that everyone is running around like lunatics, spending exorbitant amounts of money on food to fill their refrigerator when the chances of losing electricity are pretty damn high? I can't be the only one out there who has thought that through, right?
As I grabbed some produce that doesn't need refrigeration and witnessed an argument over the last gallon of milk (I kid you not), I saw zucchini on sale and decided it would be the perfect veggie to turn into a baked good to have over the next day or so when we might not have power because personally, I'd rather be hurricane ready with muffins than milk.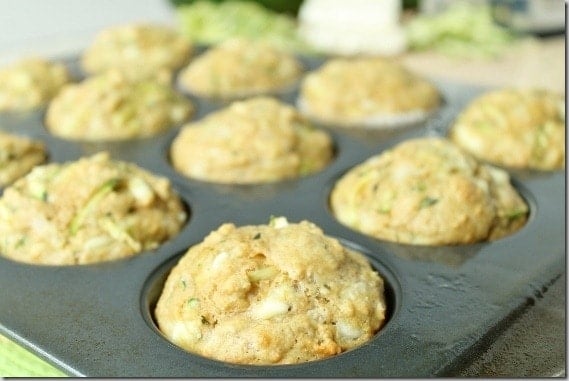 Zucchini is perfect for baking. It's easy to grate (unlike carrots) and it's mild flavor adapts well into whatever recipe you throw it in.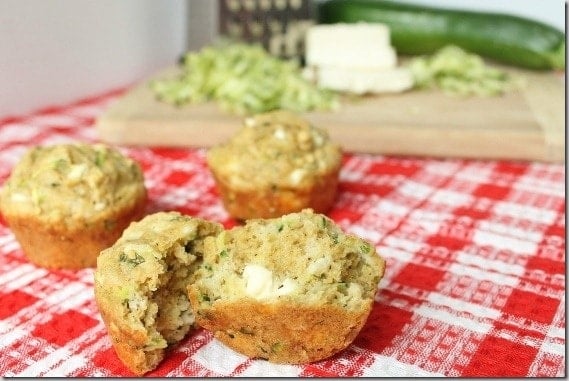 I've made a sweet zucchini + olive oil cake before and remembered how amazingly moist the olive oil kept the cake so I decided to replicate that in muffin form. And, add cheese. Why? Why not?
As part of the Foodbuzz Tastemaker program I received these olive oils from Crisco and figured this was the perfect time to test out the extra virgin one.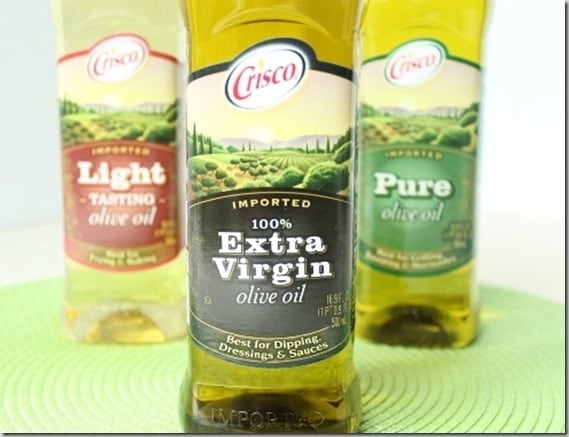 The verdict? The muffins came out perfectly moist and incredibly savory. The olive oil makes them slightly rich and the feta gives it a kick of saltiness.
Perfect with a bowl of soup on a rainy day.
I wasn't the only one to think they were good either.
Don't let that face and calm demeanor fool you. I walked to the kitchen for 15 seconds to grab a towel and came back to 11 muffins. Not a crumb out of place and I'm sure she thought she had me fooled for a second but then I counted them, looked at her, and she put her head down and walked out of the room. Busted!
You may be sneaky Ginger but I'm still smarter.
Zucchini Feta Olive Oil Muffins
These zucchini feta olive oil muffins are delicious, savory and moist. The perfect accompaniment to a bowl of soup.
Ingredients
1 cup whole wheat pastry flour
1/2 cup all purpose flour
1 1/2 teaspoons baking powder
1 teaspoon baking soda
1 teaspoon salt
1/2 teaspoon freshly grated pepper
1 1/2 cups grated zucchini
1 cup crumbled feta
1/2 cup milk
1/4 cup extra virgin olive oil
2 eggs
3 tablespoons freshly chopped basil
Instructions
Preheat oven to 350 degrees.
Grease muffin pan or line with muffin cups.
Combine first 6 ingredients in large bowl.
Add zucchini and feta and stir to combine.
Add remaining ingredients to medium bowl and whisk together.
Add wet ingredients to dry and mix until just combined.
Scoop mixture into pan and divide evenly among 12 muffin cups.
Bake for approximately 18-20 minutes until muffins have risen and spring to the touch.
Remove from oven, let cool for 5 minutes before transferring to a cooling rack.
Do you panic in weather emergencies?
What's your favorite vegetable to bake with?