An easy, authentic spiced shawarma chicken wrap with pickles and garlic mayo.
Shawarma. How fun of a word is THAT? I just want to keep adding a bunch of vowel/consonant combinations in the middle of it and say it over and over.
I'd never even heard of shawarma for the first 20 years of my life until I got to Spain my junior year of college and discovered the amazingness that is the Spanish night life. It went something like this:
9-11pm: tapas and wine
11-4am: clubs, tight clothing, dancing, drinks and gorgeous men
4-5am: SHAWARMA kiosk/truck for drunken eats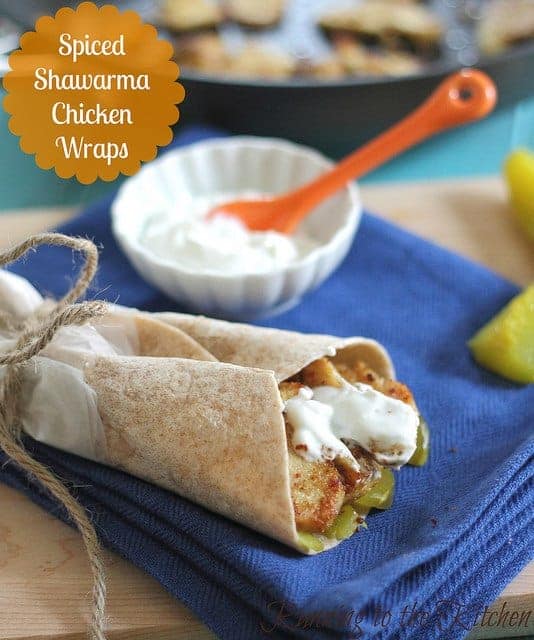 5-6am: walk home, except there's no "shame" in this walk, it's just the norm.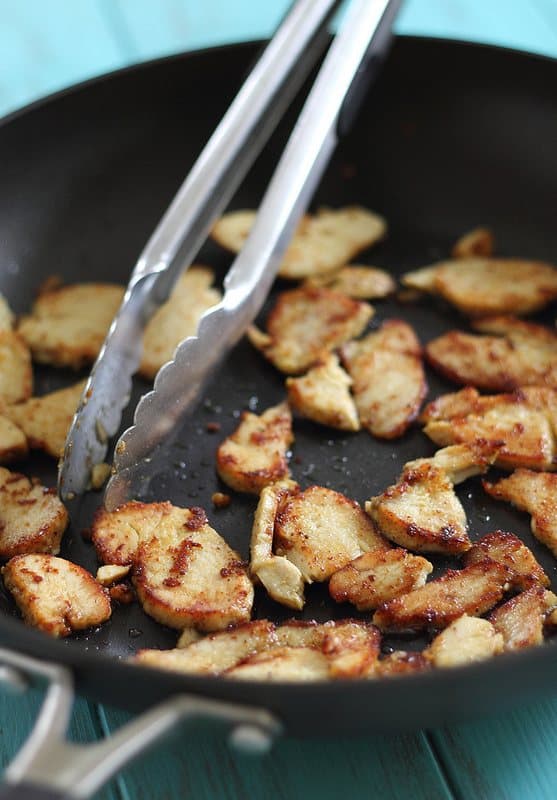 But back to the shawarmamamama. You know how good diner food tastes after a night of drinking? Well magnify that by like 20 for chicken shawarma from a hole in the wall food kiosk truck thingy in Spain. Like a gyro but better because it's all spiced up and usually involves pickles. I live for pickles.
So when I found out this was our next pick from Faith's cookbook I was slightly excited to relive my 20 year old, post drinking, 5am snack days.
It was a little less exciting this time around though. No obnoxious amounts of alcohol, dancing or gorgeous men (oh, just kidding Ulysses was home) but, the shawarma totally stole the show. I don't even know how to explain this chicken besides likening it to edible crack. Perfectly spiced, crispy and just totally irresistible (ok, I guess I did explain it). Paired with pickles and a faux-garlic mayo (I cheated and used greek yogurt), I seriously didn't want the wrap to end.
Shawarma yourself.
Spiced Shawarma Chicken Wraps
Yield: 8 servings
Prep Time: 2 hours 30 minutes
Cook Time: 1 hour 15 minutes
Total Time: 3 hours 45 minutes
An easy, authentic spiced shawarma chicken wrap with pickles and garlic mayo.
Ingredients
Spiced Shawarma Chicken Wraps
1 batch Shawarma Spice Mix
1/2 cup (125 ml) plain yogurt
11/2 tablespoons fresh lemon juice
3 large cloves garlic, crushed
11/2 teaspoons salt
2 lb (1 kg) boneless, skinless chicken breast
2 tablespoons olive oil, plus more to cook
16 Flatbreads
Garlic Mayonnaise (page 24)
Pickles (page 27)
Shawarma Spice Mix
2 teaspoons ground cumin
2 teaspoons ground coriander
3/4 teaspoon ground black pepper
1/2 teaspoon ground ginger
1/2 teaspoon ground allspice
1/4 teaspoon ground fenugreek
1/4 teaspoon ground cardamom
1/4 teaspoon ground cloves
1/4 teaspoon ground sweet paprika
1/4 teaspoon ground turmeric
1/8 teaspoon ground red pepper (cayenne) (optional)
Pickles
1 cup (250 ml) hot water
2 tablespoons salt
2 teaspoons sugar 7-10 Persian or Japanese cucumbers washed and ends slightly trimmed
2 cloves garlic, peeled
Purified water, to cover the cucumber
1/2 teaspoon oil
Garlic Mayonnaise
2 cloves garlic, crushed in a mortar and pestle with 1/2 teaspoon salt
2 large egg whites or 1 large egg
1 cup (250 ml) oil
1 tablespoon lemon juice
1 tablespoon cold water
Instructions
Spiced Shawarma Chicken Wraps
Prepare the Shawarma Spice Mix.
Combine the spice mix with the yogurt, lemon juice, garlic, and salt in a large bowl. Add the chicken and toss to coat. Cover and refrigerate 2 to 24 hours.
Preheat oven to 350°F and spread 1 tablespoon of oil on the inside of a large baking dish.
Scrape off any excess marinade from the chicken with your hands. Starting in the center of the oiled dish, arrange the chicken so that it overlaps, and drizzle the remaining 1 tablespoon of oil on top. Bake (uncovered) 1 hour, or until the chicken is fully cooked; cool. (It's done when you cut into the center and there is no pink.)
Remove the chicken from the pan and transfer it to a large cutting board; slice it very thinly across the grain, then transfer it back into the pan it was cooked in to soak up the juices (the chicken can be refrigerated this way for up to 3 days before continuing with the rest of the recipe, or you can continue after 10 minutes).
Pickles
Combine the 1 cup (250 ml) hot water, salt, and sugar in a large measuring cup with a pour spout; stir until the salt and sugar are completely dissolved and then cool to room temperature.
Sterilize a 1-liter (1.06 qt) canning jar.
Cut the cucumbers into spears by cutting them in half lengthwise, and then cutting each half lengthwise into 3 equal pieces.
Put 1 clove of garlic in the bottom of the jar, add the cucumber spears, and then add the other clove of garlic on top.
Pour in the water/salt/sugar mixture, then add enough purified water so that the
cucumbers are completely covered, leaving about 1 inch (2.5 cm) of free space at the top.
Let the jar sit at room temperature to form pickles. The pickles are ready to eat when the cucumber turns khaki green in color, and they smell faintly of vinegar. This will take about 5 to 7 days in hot weather and 15 to 20 days in colder weather.
Once the pickles are ready to eat, drizzle in the oil and store refrigerated.
Garlic Mayonnaise
Crush the garlic and salt in a mortar and pestle until it forms a smooth paste.
Whisk together the garlic paste and egg until well blended.
Add the oil, drop-by-drop, while whisking (after you've added 1 tablespoon of oil
drop-by-drop, you can add the oil a little faster). Make sure the oil you add is fully
incorporated before adding any more.
Once you've added 1/2 cup (125 ml) oil, alternate between gradually adding the oil and lemon juice and continue mixing until fully incorporated.
Add the cold water and mix until smooth and creamy.
Notes
Recipe Courtesy of An Edible Mosaic: Middle Eastern Fare with Extraordinary Flair by Faith Gorsky (Tuttle Publishing; Nov. 2012); reprinted with permission.
*While I didn't make the garlic mayo and pickles, the recipes for both are above so don't be intimidated by all the text! The shawarma wraps were really quite simple.
And here's a list of all the other ladies participating A Mid-East Feast if you want to check out their experiences too.
Brandy – Nutmeg Nanny
Amanda – Fake Ginger
Jeanette – Jeanette's Healthy Living
Joanne – Eats Well With Others
Heather – Girlichef
Natasha – Five Star Foodie
Megan – What's Megan Making
Rachel – Baked by Rachel