This spaghetti with roasted tomato peach sauce is slightly sweet and a great light summer meal.
There are literally about 25 pounds of tomatoes sitting on my counter right now. The csa gave us free reign of the tomato patch this week and I kind of went crazy. It was basically a nice little warm up for the farmer's carry we did at crossfit later that night. Who needs kettle bells when you have tomatoes?
First of all, I don't can, so sauce is out. I'm not slaving away for a full day over my stove making sauce and dealing with boiling and sterilizing jars, it's just not happening. So as I was putting away some of those 25 pounds of tomatoes in the same drawer in the fridge (if I keep them on the counter, they ripen quicker than I can eat them all!) where about 10 of last week's peaches remained, an idea struck.
Roast + blend. My kind of sauce.
These tomatoes are like candy and I'd be lying if I said I didn't eat at least 20 while I was picking them at the farm (quality control). They're super sweet and seemed like they'd be perfect to roast up with some peaches for a quick sauce.
And since I'm the biggest hypocrite in town, right after I left crossfit yesterday morning talking about how I'd done 2 weeks of strict paleo, I came home and made pasta. Hey, at least it was the Barilla Plus kind with extra protein, right?
Granted, I don't think it mattered one bit what I ate after this workout as my metabolism probably demolished it all within seconds of entering my body. 200 double unders….gross.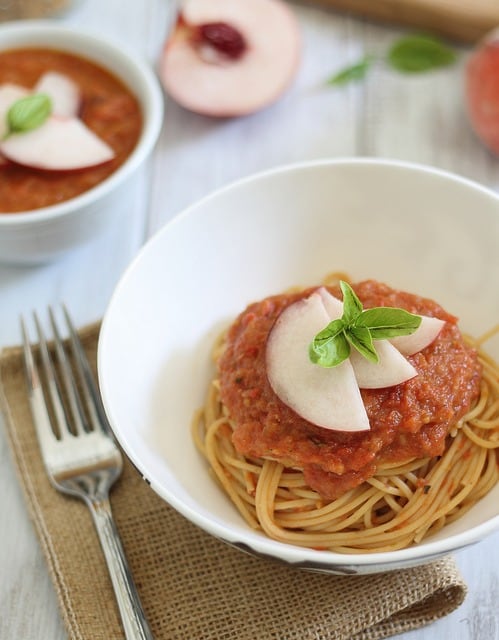 The sauce came out like a cross between traditional tomato sauce and salsa with a sweet undertone from the candy-like tomatoes and peaches. You could just as easily dip chips in it for a snack as toss it with some pasta for a meal. It's a weird and delicious hybrid.
But it sure as heck beats canning.
Roasted Tomato Peach Sauce with Spaghetti
This spaghetti with roasted tomato peach sauce is slightly sweet and a great light summer meal.
Ingredients
2 large peaches, chopped
4 cups cherry tomatoes
1 shallot, coarsely chopped
3 cloves garlic, tops sliced off, drizzled with olive oil and wrapped in aluminum foil
2 tablespoons extra virgin olive oil
1 tablespoon honey
salt & pepper
1/4 cup basil leaves
1 tablespoon balsamic vinegar
1/4 teaspoon cinnamon
pinch of red pepper flakes
1 lb. Barilla Plus spaghetti (or other shape/pasta)
Instructions
Preheat oven to 400 degrees and grease a baking sheet.
Toss peaches, tomatoes and shallot with olive oil, honey and salt & pepper in a large bowl and spread out onto baking sheet.
Add garlic cloves wrapped in aluminum foil to baking sheet as well.
Roast for 25-30 minutes, tossing occasionally.
Once roasted, remove from the oven and let cool for 5 minutes.
Unwrap garlic cloves and remove roasted garlic from itâ??s shell.
Add garlic and tomato/peach mixture to a food processor.
Add remaining ingredients and process for 30 seconds until blended but still slightly chunky. Season with salt & pepper to taste.
Bring a pot of salted water to a boil and cook spaghetti according to instructions (about 8-9 minutes for al dente).
Drain once cooked and return to pot.
Add as much of the sauce as desired and toss to coat.
Garnish with sliced peaches and basil.
Barilla provided me with a few sample boxes of their Barilla Plus pasta and a gift card stipend to create a recipe inspired by the farmer's market.