These pumpkin pie phyllo bites are a healthier, bite sized alternative to pumpkin pie that comes together in minutes!
Welcome to another addition of What I Ate Wednesday! Yesterday was a good day. 1.
I think I've 95% kicked my cold.
2. I ran 10 miles
3. I ate 2 different kinds of delicious desserts.
Ready for the run down?
Breakfast:
Oats in a jar. And not just any jar…
This jar! I can't tell you how long I've waited for this day.
Guys, this stuff is what I hope heaven to be filled with (if I make it there.) I spent about 30 minutes making sure I got every single morsel of goodness out of this thing.
Sometimes Ginger gets lucky and we give her empty pb jars.
This was not one of those times.
You know what a larabar looks like right?
Well picture half of a brownie chocolate chip cookie dough one as a snack here.
I fit in a 10 mile run during an extended lunch break (love the flexibility of working from home for this reason!) and came back pretty much ravenous.
Seeing a calorie burn like this might explain it.
Looks like I've got some eatin' to do!
Lunch:
Turkey, cheddar, spinach and hummus bagel sandwich.
Apple with almond butter and carrots with hummus. I know this does not look like the lunch of someone who just ran 10 miles but that's because I had grand plans for dessert later.
I also may or may not have snuck one of these delicious pumpkin pie phyllo bites in for something slightly sweet.
Recipe below, but they're basically the easiest and tastiest way to use up that measly cup or so of pumpkin you have left when you open a can for something and then don't know what to do with the rest.
The phylllo bites taste like pumpkin pie on the inside, except healthier than the normal filling with less sugar and real milk instead of evaporated without the work, calories or bother of a pie crust.
I worked a bit later than usual partly to make up for my extended lunch and partly because my region is the west coast and they're still hopping come 5pm east coast time, but after work I had one thing on my mind.
Chocolate.
Fudgy, salted brownies. Is there any other way?
I had no idea what I was going to do for dinner, but dessert was covered.
At least my priorities are straight, right?
Dinner ended up being a takeout calzone with leftover roasted Brussels sprouts thanks to Ulysses picking it up on his way home.
The calzone actually gave me a great excuse to test out some of the new goodies I got yesterday from Newman's Own as part of the Foodbuzz Tastemakers program.
I added the tomato & basil one on top of my portion of the calzone and let me just say I was super impressed.
I'm a self admitted tomato sauce snob and this was excellent. No jarred, nasty fake taste.
It actually tasted like real tomatoes and the basil flavor was prominent enough to make it taste fresh.
I was sent these two sauces, a few different dressings and a flip cam. While I didn't use the flip cam to record any groundbreaking new recipes (yet!), I did test it out by tormenting Ginger.
Make this #465,798 why I shouldn't have kids.
Daddy was not home. I'm just mean and that was my attempt at revenge for her rolling in deer shit earlier in the day.
Can you imagine what I might do to my kid when faced with a really dirty diaper?
Yeah, me too and that's why the subject of kids is off the table.
Battlefield 3 came out yesterday which means I've lost my husband after dinner for the next 3 months or so until he beats the game.
What does that mean for me? Brownies+ Mad Men with no interruptions.
I think I'm ok with that.
Pumpkin Pie Phyllo Bites
These pumpkin pie phyllo bites are a healthier, bite sized alternative to pumpkin pie that comes together in minutes!
Ingredients
8 phyllo dough sheets
1 cup pumpkin puree
1/4 cup sugar
1/2 teaspoon pumpkin pie spice
1/2 teaspoon vanilla extract
1/4 cup milk (I used 1%)
Instructions
Thaw phyllo dough sheets according to directions.
Preheat oven to 375.
Grease muffin pan.
Mix all ingredients besides phyllo dough together in a medium bowl.
Layer two sheets of dough on top of each other.
Cut in half.
Then fold that half in half so that you have a square.
Line muffin cup with square shaped phyllo dough and spoon about 2 tablespoons of mixture into cup.
Continue this process until dough is used up.
This recipe makes enough for 8 cups/bites but is easily increased if you have more pumpkin. Bake at 375 for 15-17 minutes until phyllo dough is browned on the edges and pumpkin mixture is just set.
Let cool in muffin pan for at least 10 minutes to set.
Notes
*These are best enjoyed the day they are made otherwise the phyllo will get a bit soggy even though the pumpkin pie inside will still taste fine.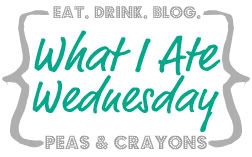 Do you like your brownies fudgy or cake-like?
Do you torment your dog for fun or am I just an incredibly cruel person?