This garlic herb tahini dressing is an easy dressing to whip up with many uses.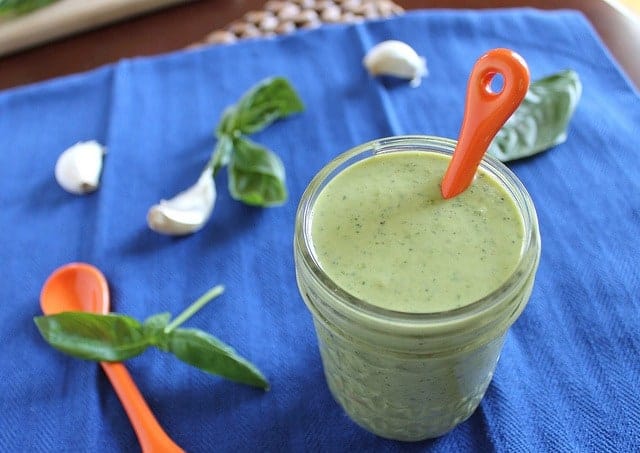 You know that tiny bit of anxiety you get when you bring a dish to a party, set it on the table and then secretly spend the rest of the time praying people will eat it?
No? Just me?
Well that's what happened with this on Easter.
My mom asked me to bring a side dish of vegetables so I threw together some barely cooked asparagus, raw shaved zucchini and stuffed green olives in the biggest pasta bowl I have, dressed it with just some olive oil, lemon and garlic and then went to work on this dressing to be served on the side.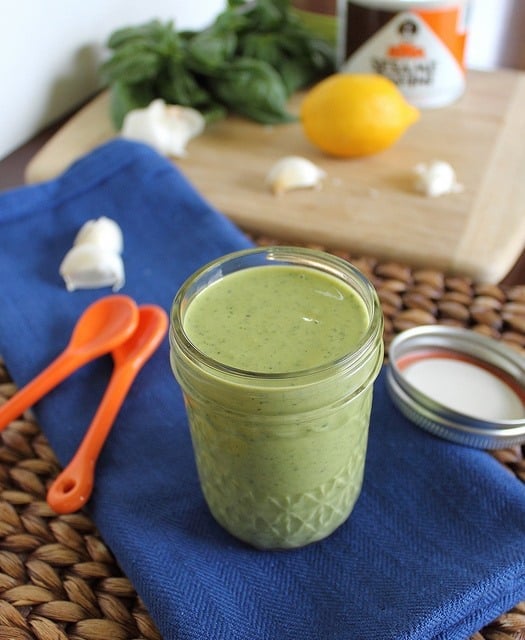 I used Katie's recent recipe as inspiration but literally just starting throwing things into the food processor with abandon and adjusting after a few pulses here and there. You should see the notepad I write recipes on, this one looks like something out of A Beautiful Mind, minus the whole genius/schizo part.
I've only had tahini in my hands for literally a week now, but I can 100% say that this will be one of my go to uses for it. It basically turned what would otherwise be called a pesto into an amazing dressing. Put it on a salad, drizzle it over raw or roasted vegetables, use it as a pasta sauce, maybe an unconventional hollandaise sauce over eggs… Possibilities = endless.
Don't worry, I did actually wash the basil that went into the dressing. I can't even tell you how much the sand on those leaves is bothering me in this picture (deep breaths).
So I sit down with my plate of food assuming no one will say anything about the vegetables when there's french toast casserole, potato leek casserole, a ham, a lamb roast, muffins and 10 desserts strewn across the kitchen counter resigning to the fact that I'll probably be taking home every damn zucchini ribbon that I spent 30 minutes peeling and guess what? It happened. That "oh my gosh, who made this?" question that everyone hopes is about their dish. I turn around expecting to see someone with their face full of dessert to see my aunt with a forkful of veggies raised in the air looking around for someone to claim it as theirs. All I could do was smile.
Veggies with dressing for the win.
It may not have bitchin' in it's name but it sure acts like it.
Garlic Herb Tahini Dressing
Yield: about 1 cup
Prep Time: 5 minutes
Total Time: 5 minutes
This garlic herb tahini dressing is an easy dressing to whip up with many uses.
Ingredients
1/4 cup parsley
1/4 cup basil
1 clove garlic
juice of 1 lemon
1/4 cup extra virgin olive oil
1/4 cup tahini
1/4 cup water
1 1/2 tablespoons honey
2 tablespoons pine nuts
salt & pepper
Instructions
Combine all ingredients in a food processor and process until smooth.