This barley kale and cherry salad is tossed with toasted walnuts for a hearty and healthy summer side dish.
I'm trying to detox my body from the insane amount of wine and food from our trip because 1. it makes me feel better but also 2. I have the second installment of a wine & cheese night with friends this Saturday. I'm hoping that by shoving greens and water down my throat I'll at least be able to look at wine again in 6 days without wanting to gag a little.
Funny enough, even after all that rich food, it's been hard to curb sweets. I got used to dessert after every meal and with no goat cheesecake, caramel popcorn or lemon shortbread & blueberries anywhere in sight, I feel like I'm going through withdrawal.
If this is what it feels like with food, I think I'll refrain from the drugs.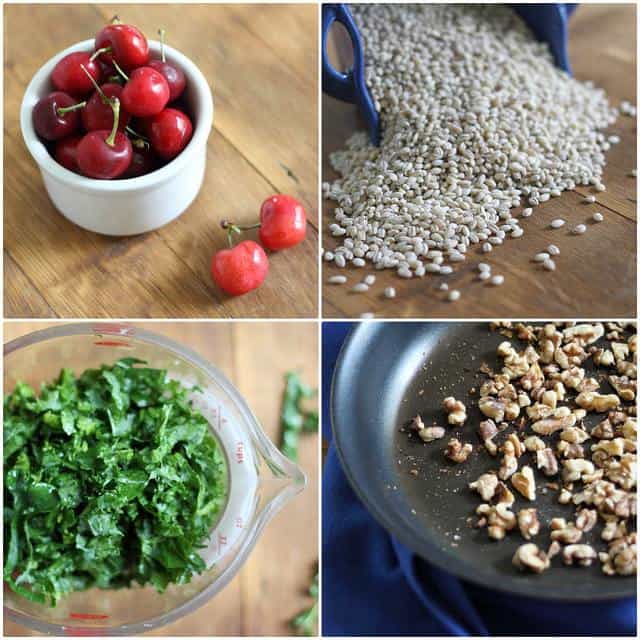 Cherries caught my eye the other day when I was restocking the fridge (apparently Ulysses new found joy of cooking does not carry over to grocery shopping) and even though they make my lips swell up (some sort of random allergic reaction that happens to me occasionally), I have a hard time passing them up when they're under $2 a pound. So in the cart they went destined for this salad.
Ok, not really. I had no intention of doing anything but eating handfuls of them at a time but then that sweet craving kicked in around lunchtime yesterday and this somehow materialized.
Fruit in salad for some sweetness in an attempt to kick that sweet craving to the curb in a healthful way. Feta would've been awesome in here too but my little Greek man of a husband doesn't allow that to sit around very long in our house. He goes through it like water and not the expensive $5.99/lb it is.
It's light, slightly sweet and coated in a pesto type dressing. Also, kale is way more fun to eat when it's been "ribbonized".
This worked for about 2 hours until I grabbed one of these. Almost a win.
Barley Kale and Cherry Salad
This barley kale and cherry salad is tossed with toasted walnuts for a hearty and healthy summer side dish.
Ingredients
3 cups cooked barley (from about 1 cup uncooked)
1 cup cherries, pitted & halved
3 1/2 cups kale, sliced into ribbons
1/2 cup walnuts, toasted
2 tablespoons basil, torn
juice of 1/2 a lemon
2 tablespoons extra virgin olive oil
1 small clove of garlic
1 teaspoon honey
salt & pepper
Instructions
Combine barley, kale and cherries in a large bowl. Set aside.
Combine remaining ingredients except walnuts in a food processor and process until it reaches a dressing like consistency (about 30 seconds).
Pour dressing over salad and season with salt & pepper to taste.
Top with toasted walnuts.
Serve room temperature or chilled.
If you missed yesterday afternoon's recap of our wine country trip, check it out here!