Happy
Friday
Wednesday! How great is it that it's basically Friday for most people? If you're already off, I'm jealous. Besides a full day of work, I somehow need to fit in the time to make 3 side dishes for tomorrow, get in a light run, get my allergy shots and make some scones that I haven't been able to get off my mind. Ok, the scones may not be imperative, but I
really
want to make them and they'd be perfect for Thanksgiving anyway. I don't think anyone will be upset if there's another dessert on the table.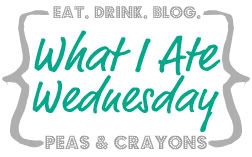 Breakfast:
You've seen this banana cornbread bake before and you'll probably see it again because it's my favorite breakfast bake. Easy, only a handful of ingredients and microwavable. I love these on mornings when oats or yogurt just aren't cutting it. The nasty looking brown stuff on top is almond butter from the bottom of the jar. No matter how well I stir it, I'm always left with dried out, clumpy "butter" at the end.
Lunch:
Apple, cheddar and black bean panini. Odd? Yes. Tasty? You betcha. Apples, carrots and hummus on the side with some dark chocolate covered pretzels. <—one of my absolute favorites from TJ's.
Snack:
Persimmon coconut smoothie. It tasted like a creamsicle + pina colada. Soooo good. And so pretty.
Persimmon Coconut
Smoothie
Yield: 1 glass
Fruit of 1 very ripe persimmon
1 cup coconut milk
1/4 teaspoon ginger
1/4 teaspoon nutmeg
1/2 teaspoon agave
1/2 cup ice
Directions:
Combine all ingredients in a blender and blend until smooth.
Dinner:
A bed of collard greens with this on top. I can't get enough of collard greens lately. I sautéed two huge bunches of them and we polished it all off. That's a lot of vitamin C and fiber!
We also polished off the apple pie from Sunday for dessert.
What food are you recently obsessed with?