This brussels sprouts bacon and sun-dried tomato pasta takes spaghetti to the next level.
If you've ever ventured away from the food over here and read my about page you might've seen the reference to the "sophomore ten" in my history with food and weight. What I didn't write about over there was the crazy protein diet my mom and I went on the summer after my sophomore year of college to loose that weight.
I think it's real name was Lean for Life or something like that. It was pretty much what the love child of Atkins and South Beach would have looked like. My aunts were doing it at the time too and we somehow got a bootleg copy of the diet plan and decided to start it ourselves. The first three days were called "protein days" because you literally ate protein the entire day. Carbs were supposed to be limited to around 50grams in an effort to kick your body into ketosis. I can totally get behind a good steak or a piece of well cooked fish, but do you know what it's like to eat just protein for 3 entire days? It's disgusting.
After those first three days you followed a diet plan that was still heavy on the protein but also incorporated lots of veggies and fruits. Every week would kick off with another protein day at the start and this went on for 6-8 weeks. No straight up carbs the entire time. Carbs were ok in fruits and veggies, but I didn't eat a piece of bread or a strand of spaghetti for an entire 2 months. Do you know what that's like to someone who grew up in an Italian family eating pasta 2-3 times a week?
It's flippin' torture is what it is!
I can still remember having a piece of toast after those 8 weeks were up as I started the "maintenance" phase and literally savoring every bite. I'm not sure I've experienced pure satisfaction as good as that since (sorry, babe).
The diet actually worked (combined with a lot of walking) and I lost about 12lbs. However, I had convinced myself that since it worked, my body was one of those that only "responded well to a low carb diet." Seriously, that statement literally came out of my mouth and I would tell people that.
So, I went on for the next year or two trying to maintain that way of eating and throwing in protein days here and there when I fell off track (i.e. after 10 cent wings and $3 pitchers on Thursday nights). My college roommates will still tell stories of me cooking black pepper crusted tuna steaks in our disgusting apartment senior year and eating that for 3 days straight. I would snack on pickles (they were ok during protein days) and eat copious amounts of cheese.
During this entire time there were obvious enemy foods. Bread, rice and most glaringly, PASTA.
Dickinson actually had really good caf food, especially some of the pasta dishes and I would have to summon literally every ounce of willpower to walk away from the pasta station.
It was a sad, sad existence.
Eventually, I entered the real world of a full time job and my motivation to follow the "protein diet" slowly tanked. The next 4 or 5 years were pretty much up and down on the scale until I finally got my shit together enough and woke up to what a "real" healthy diet is.
Funny, now I can eat pasta and not feel bad, put on weight or have to follow it up with a "protein day."
Too bad I wasted those two years pasta-less. Especially, when I could've been eating this.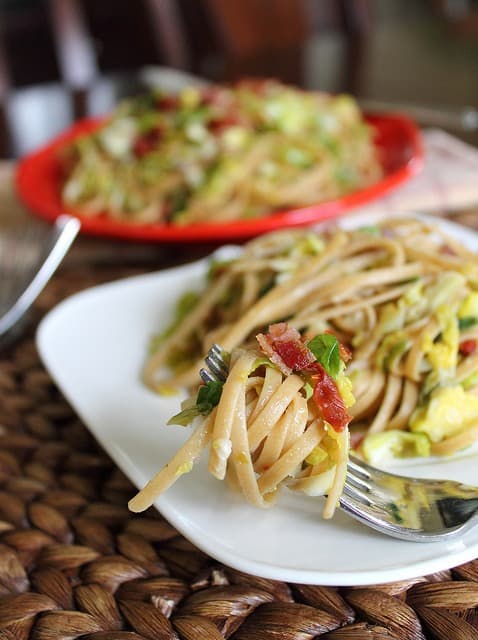 Brussels Sprouts Bacon and Sun Dried Tomato Pasta
This brussels sprouts bacon and sun-dried tomato pasta takes spaghetti to the next level.
Ingredients
1/2 lb. whole wheat spaghetti or linguine
1 lb. brussels sprouts, cleaned, trimmed and thinly sliced
1 14 oz. can artichokes in water, drained and chopped
4-5 slices of bacon
1/3 cup sundried tomatoes, sliced
1/2 cup freshly grated parmesan cheese
salt & pepper
Instructions
Bring a large pot of water to a boil.
Meanwhile, add bacon slices to a large skillet over medium-high heat and cook until crispy. Remove from skillet, set aside and crumble once cooled.
In the same skillet with the bacon grease, add sliced brussels sprouts and saute for 3-5 minutes.
At this point, water should be boiling. Salt water and cook pasta until al dente.
While pasta cooks, add sun-dried tomatoes to the brussels sprouts and saute for another 1-2 minutes.
Next, add artichokes and saute for a final 2-3 more minutes. Season mixture with salt & pepper to taste.
Once pasta is done, drain, reserving a cup of the cooking liquid.
Add pasta to the skillet and parmesan cheese.
Toss to combine, adding in some of the pasta water as needed to keep it from being too dry.
Top pasta with crumbled bacon.