It's Wednesday! Which means we have Jenn to thank for WIAW. Go check out her site if you want to drool over hundreds of delicious food photos. Don't do it while hungry though, that's like grocery shopping while hungry. Bad, bad things happen.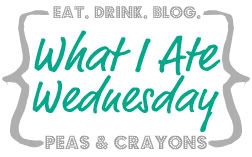 Ever go to sleep and know exactly what you want for breakfast in the morning? That's what happened with yesterday's breakfast. I haven't wanted hot oats in weeks given the temperatures outside but for some reason I had an intense craving for them yesterday.
Toppings included:
blueberries
pepitas
coconut almond granola
shredded coconut
coconut butter
sunflower seed butter
I was going for a coconut theme. Can you tell?
Have I ever told you guys how I make oats? I don't believe I have! I'm pretty sure there are a million posts out there about how to make oatmeal and my method has changed since I first started eating it from microwave to stovetop. I totally dismissed the stovetop method at first thinking it must take so long and it's an extra pot to clean, etc. But, now I actually think it's easier.
Into a small saucepan on med-high heat goes:
Serves 1
1/4 cup oats
1/8 cup hot cereal (I use Bob's Red Mill 10 grain)
1/2 banana diced
1/2 tbsp chia seeds
1/2 cup milk
1/2 cup water
splash of vanilla extract
cinnamon
pinch of salt
Bring it all to a simmer and stir a few times as it thickens. With old fashioned oats this is ready in about 5 minutes. Use that time to get your toppings out and ready!
One of the perks of working at home is being able to use your lunch hour for something besides lunch if you so choose and that's exactly what I did. Got a NROLFW 2B workout done during lunchtime and made a quick protein smoothie afterwards to sip back at my desk.
Chocolate, coconut, cherry smoothie. Hello, delicious.
Into the blender:
1/2 cup frozen cherries
1/2 frozen banana
3/4 cup coconut milk
1/2 cup water
1/2 scoop chocolate protein powder (I use Designer Whey)
1/2 tbsp cocoa powder
1 cup ice
Two things on this: 1. It was delicious 2. I can't believe I never tried coconut milk until yesterday. It is so freakin' good!
I had a random coupon for $1 off any 2 half gallons of Pure Almond or Coconut milk so instead of buying 2 almond milks I figured I'd give coconut milk a shot. Unlike almond milk, which I'm personally not a fan of drinking by itself (the thickness grosses me out), coconut milk is delicious alone. The only thing I don't like about dairy free milks are the lack of protein but, that's what protein powder is for I guess.
This kept me full for a couple of hours but I did get hungry later in the afternoon and snagged a zucchini feta olive oil muffin from the other day.
PS- I like this picture. Foodgawker did not but, that won't stop me from continuing to use it.
Some hummus + Mary's crackers went undocumented at my parents house in the early evening. I'm sure you can visualize those.
Dinner was made by my brilliant sous chef and waiting for me when I got home.
Ha! What did you expect? Ulysses is many things, a cook is not one of them. Watching him attempt to chop up produce is enough for me to shoo him out of the kitchen and take over. He does fix treadmills though so I can't complain too much.
We have a favorite pizza place about 4 minutes from our house. My only complaint is that whenever Ulysses picks it up they give him free garlic knots, whenever I go, nothing. I'm convinced the lady behind the cash register has a crush on him which is totally fine by me because that just means I shouldn't have to pick it up ever.
x2
That salad on the side would be 3 garden ripe tomatoes from my parent's house + leftover shredded zucchini from the muffins + basil in a olive oil + balsamic vinegar dressing. So good.
And because this may be one of the last times of the summer we get it, a cherry dip vanilla ice cream cone for dessert.
It gave me a stomach ache but was so worth it.
What was the best thing you ate yesterday?
Cherry or chocolate dip on ice cream cones?
Does/can your significant other cook?