These breadcrumb, flaxseed and nutritional yeast coated zucchini fries are baked in the oven and as delicious as they are good for you.

Happy hump day! Ready for a little What I Ate Wednesday action thanks to the lovely
Jenn
?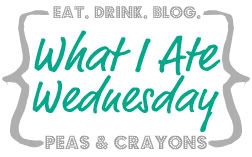 Let's get this party started.
Un buen desayuno. <–I doubled majored in Spanish in college and haven't used a drop of it since. Kind of tempted to write a whole post in Spanish one day. That could be fun.
The pumpkin craze continued by mixing about a 1/4 cup of pumpkin with yogurt + cottage cheese for breakfast. Toppings:
grape nuts cereal
a chopped up juicy pear
pepitas
maple syrup
Delicious, but I was hungry by 11:30. I always have this problem with yogurt. Some people say protein heavy breakfasts leave them full longer. Not me though. Bring on the carbs!
Lunch was pretty random. I opened the fridge to see 2 lone zucchinis in the produce drawer. That was it. Hmm…
A few minutes later, I found myself battering, dipping and rolling zucchini fries in a delicious combination of bread crumbs, ground flax seed and nutritional yeast.
And then I ate the entire zucchini in fry form.
I guess there are worse "fries" out there to eat an entire tray of, right?
Since lunch basically consisted of one big vegetable, a snack was soon to follow.
Good 'ole PB&J.
After work I went grocery shopping. I was hungry, without a list and had no plan for dinner. Somehow, I managed to avoid the disaster that was pointing to and walked away only $93 poorer and with the ingredients for a quesadilla dinner.
Mushroom + onion + cheddar quesadillas with some tomato & avocado for good measure. Thoroughly enjoyed on the couch, while watching the second episode of Madmen on Netflix, our new obsession. Loving it so far. It's funny yet kind of weird/quirky. I think it's more my cup of tea than Ulysses' but, I've endured enough episodes of 24 for it to be my turn to pick.

Gina Matsoukas
Yields 1-2
Good for you zucchini fries
These breadcrumb, flaxseed and nutritional yeast coated zucchini fries are baked in the oven and as delicious as they are good for you.
10 minPrep Time
20 minCook Time
30 minTotal Time
Ingredients
1 large zucchini
1/3 cup bread crumbs
1/4 cup ground flax seed
1 tablespoon nutritional yeast
1/2 teaspoon dried thyme
1/4 teaspoon red pepper flakes
1 egg
3-4 tablespoons almond milk
salt & pepper
Directions
Preheat oven to 425 degrees.
Line baking sheet with aluminum foil and grease.
Cut zucchini into â??fries.â?
Combine dry ingredients in a shallow bowl.
Beat egg and almond milk in another shallow bowl.
Dip zucchini fries into egg mixture first then roll in bread crumb mixture.
Line zucchini on baking sheet.
Bake for approximately 20 minutes, flipping fries half way through.
http://www.runningtothekitchen.com/good-for-you-zucchini-fries/
Any Madmen fans out there?
What's your favorite kind of vegetable "fry"?