I feel like I say this every Wednesday, but this week feels like it's dra-gg-ing. I think I just really hate Wednesday's in general. It's not far enough along in the week to consider it close to the weekend and it's too far removed from Monday to have any energy left that you might have started the week with. I think we should just get rid of the day completely. Anyone with me?
Anyway, let's get to the food. This is a pretty typical day. Nothing fancy, no recipes, just regular meals and some after dinner antics.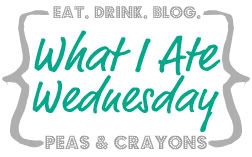 Breakfast:
A waffle sandwich with almond butter, bananas and lots of berries which should be no surprise if you read yesterday's post.
Lunch:
I spent lunch time playing around with a new recipe and therefore ended up reheating the potato salsa, throwing in some chips, adding a ridiculous amount of goat cheese to it and calling it lunch at my desk just in time for a meeting. That water bottle is pretty much attached to my hip 24/7. I used to just have a big glass that I'd fill up and keep at my desk until I realized that was probably a tragic computer accident waiting to happen so I switched to the spill proof option, pretty much treating myself like you would a toddler.
That meeting ended and I had about 30 minutes before the next one so this happened.
3 minutes in my microwave. Best mug cake yet.
Unfortunately, I can't take credit for any of it because it was Evan's paleo mug cake recipe. This was my first time actually trying something paleo on purpose and if it's any indication of how the rest of paleo desserts taste, I'm down for trying them all. I made a pumpkin mug cake that I thought was pretty good earlier in the week but this put that one to shame. Mug cakes always have a bit of a weird texture to them which I'm guessing is a result of the flour. This one being completely without flour had none of that weird gumminess. It was perfect "fuel" for the almost 2 hour marathon conference call that ensued.
Dinner:
I ended up skipping my workout yesterday even after literally having been dressed in workout clothes the entire day. A hot shower at 6pm just sounded way better than the treadmill.  I ate a kale salad with quinoa patties on top to make up for it. Raw kale cancels out a missed workout, right?
Every night after dinner, the same thing goes down in our house. Ulysses gets up from the table and gets on the floor to play with Ginger while I watch from the kitchen and just shake my head at their ridiculousness. I thought I'd video tape it this time so you guys could witness it too.
I feel like I should clarify a few things.
1. Ginger just sounds vicious, she's really not. Unless you're the UPS, Fed Ex or mailman. If so, you have reason to be scared.
2. This was after she spent an entire day at work with him sleeping in a chair, so she had a lot of energy.
3. Yes, Ulysses talks to her like a baby (you can hear that at the end) and even calls her his "little, little," And now all of the internet knows.
Have you ever tried a paleo recipe?
Anyone else have any amusing "after dinner" routines?