Happy Wednesday! It's really my Friday though since we head down to Florida tomorrow and I couldn't be happier for the shortened week. Let's just say things have been hectic up in here. Especially yesterday, not even worth talking about, just hec to the tic!
Let's do this
WIAW
thing…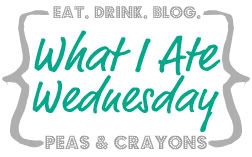 Breakfast:
Smoothie in a bowl. A pumpkin smoothie to be exact. In the mix:
1/3 cup pumpkin
1/3 cup oats
1/4 cup greek yogurt
half a banana
1 T chia seeds
splash of vanilla
dash of cinnamon
pinch of salt
ice
Blended away and topped with:
blueberries
pepitas
coconut
almond granola
and a blob of Justin's chocolate hazelnut butter (aka: bliss)
It was kind of a seasonally confused smoothie with pumpkin and blueberries but delicious regardless. I actually forgot about the chocolate hazelnut butter because it sank to the bottom and it was a nice surprise at the end. Kind of like leaving all the marshmallows in your Lucky Charms to the end as a kid. Makes for a few awesome last bites.
Lunch:
I call this the "use every thanksgiving leftover in a wrap" recipe. That's exactly what I did except I also threw in some jelly (my cranberry sauce substitute since Ulysses forgot to take that!) I'm pretty sure there was turkey, brussels sprouts, green beans, sweet potatoes, stuffing and mushrooms in there. It worked though!
Dinner:
A few weeks ago Buitoni sent me some coupons to try out their Chicken and Mushroom Risotto and Chicken Florentina with Asiago Cream Sauce frozen dishes. Unfortunately, I had an incredibly hard time finding those two in my local grocery stores. I was able to find the grilled vegetable and goat cheese agnolotti though, so I picked that up for a time when I'd need a quick weeknight meal.
That time was last night (see reference to hectic day above.) In fact, I was on the treadmill trying to fit in my 4 mile tempo run I had planned and was so stressed about everything I still had to do (dinner included) that I hopped off the treadmill after 1 mile, ran upstairs, threw a pot of water on to boil and then ran back downstairs for another mile while it was heating up. Who does that?!
Knowing agnolotti (which is basically ravioli in a different shape) alone would not suffice, I decided to throw in broccoli for added veg and the last of some frozen shrimp I had on hand for added protein.
The directions are simple, you boil water like you would for any pasta dish but add in the sauce packet while the water comes to a boil. Then you add the pasta and cook it with the sauce packet for a few minutes. I only ended up using about a third of the sauce it came with because it just didn't need the whole thing. The broccoli was blanched in the pasta water before the pasta went in and then sautéed with the shrimp. I just tossed everything together at the end and dinner was ready!
It was pretty good for a meal that came together in all of 10 minutes. Like most frozen meals, it needs supplementing but it's always easier to supplement when you're pressed for time rather than make an entire meal from scratch.
Dessert:
Instead of my usual tea, I've been drinking hot chocolate this week. Tea makes me want cookies or some sort of dessert with it. Hot chocolate is like dessert in and of itself. At least when it has marshmallows in it.
Do you rely on frozen meals on nights you're pressed for time?
Do you ever break up your run throughout the day?