It's Wednesday!
Quick side note: every time I say that for a WIAW post, I think of the song "Friday, I'm in love" except I replace Friday with Wednesday. I don't know what I'm in love with, my food maybe? But yeah, that's where my head's at and that's probably one of those weird things I should've just kept to myself.
Onwards…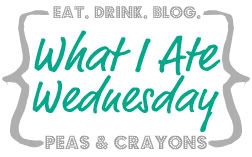 As usual, thank you to our lovely host Jenn for this partay. I know I've enjoyed her consistent posts since the lovely internet company decided to hook her up!
B to the fast:
Strawberry dough boy smoothie ala KERF. I've gotten pretty lazy about my smoothies lately and have just been whipping them up on the spot in the morning instead of letting the oats soak overnight. Definitely leads to a more "runny" smoothie texture-wise, but the taste is still delicious. If I can still get delicious while being lazy I'm pretty sure that's what I'm going to do.
Epic things happened in the kitchen at lunchtime. E-P-I-C. There may be a teaser below…
Or, if you follow me on twitter you may already know but, it kind of distracted me from lunch. I'm not saying I wasn't hungry (because that just doesn't happen to me!) but I was preoccupied and lunch ended up being an apple and a pumpkin banana smoothie at different points later in the afternoon.
PS- I added a half of a tablespoon or so of almond butter to the smoothie. Amazing. Definitely gave it some more staying power and of course a nutty flavor that went really well with the pumpkin.
This may be the first time in history I made a smoothie with too little for the cup! Usually, I have a ton and end up drinking whatever doesn't fit straight out of the blender. I'm not sure what happened this time around.
I also tested out the Tervis tumbler I received from the Foodbuzz Tastemaker program with this smoothie.  You know the maze of a line in places like Marshalls, TJMaxx, and Homegoods right before the register where they make you walk past all the weird goodies like coffee, candles, socks, snacks and mugs hoping you'll throw something else in your cart? I always see tumblers in that area and have been super close to falling victim to that marketing trap but never actually did so, I was psyched about finally having one. Two words why I already love this thing: condensation rings. Or really, the lack thereof. Working from home, I constantly have food and drinks at my desk. I'm also constantly wiping my desk down from the water ring stains because of this. Me and Tervis are going to be tight. The insulated cup is supposed to keep cold things cold and hot things hot. I can't say I really tested that out considering the smoothie was downed in about 2 minutes but, I have high hopes.
Dinner was random. Not disgusting like this one, just a random, yet delicious result of me being lazy.
What do you get when you combine the following?
sautéed baby spinach, shallots, garlic
black beans
nutritional yeast
bread crumbs
ground flax seed
lots of salt & pepper
And then pan "fry" it?
A husband approved mock bean burger that tastes pretty darn good and means you didn't really need to leave the house to go pick up some fish like you had planned. #winning
Served with a tomato, feta, basil salad and some dijon rosemary roasted potatoes I made yesterday. Details on those soon!
The best part of course, is licking your fingers after making the "burgers."
Two episodes of Mad Men (just finished season 1 and got sucked into the first episode of season 2-had to see what Peggy did with the baby!!) and 1 or 2 of these finished off the day.
Recipe tomorrow. I've got a bunch of recipes in the queue since I'm traveling for work for the next 7 days but this one just can't wait, it's skipping to the front of the line. You're welcome.
Have you ever forgotten to eat a meal?
Ever have a really random combination of ingredients come out delicious?
Can any Mad Men watchers tell me if I'm going to hate Betty this season? I don't like how her character is starting to get evil while Don's is becoming nice!