and don't you come back, no more, no more, no more, no more….
Yeah, that feels like my personal theme song or something. 1 week at the beach, 1 weekend at a bachelorette party, 1 day at home and now 3 days in California. My butt has never sat for so many hours in such a limited amount of time between all the cars, trains and planes over the past 9 days.
Surprisingly, even with the 12+ hours of travel yesterday I had a pretty good day of food. Let's get into a little WIAW action, shall we?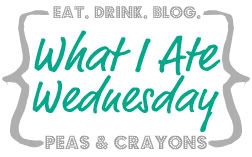 Knowing I had to leave around 6am, I prepped some overnight oats for the car ride to the airport. I think breakfast is the hardest meal to eat healthy on the road so if I can take it from home, I usually do.
My foresight apparently ended with the oats because I didn't remember to set up the coffeemaker and therefore ended up with nasty sludge gas station coffee for my morning fix.
You can totally see it in this picture but unfortunately, I didn't realize until after the first sip that I put 2 lids on the coffee cup resulting in a lovely spill situation on my jeans. Thankfully, jeans hide coffee stains really well.
After getting to the airport I headed to Balducci's which is one of the only good things about JFK. The airport is disgusting, the Delta terminal needs a renovation badly (hello dirty birds flying inside the terminal!) but at least there are good (yet ridiculously expensive) food options.
The thing about 6 hour flights that set you back 3 time zones is, they warrant an extra meal in the day. I didn't really go with an extra meal in it's entirety but I added in a few more snacks than I normally would to keep my stomach from grumbling all day long.
I ate half of this Kind bar (delicious flavor by the way) around 11am and that kept me satisfied until 1pm where I broke out the goods from Balducci's midflight.
Ladies and gentlemen, this is $21 worth of food from JFK. Amazing what airports get away charging huh? 10 pieces of vegetables…that will set you back $5. An apple…$2.49. Unbelievable. The lady at the cash register took the water bottle, scanned it and then said to me "This is $3.26, is that ok?"
Internal monologue: Is that ok? Um no, it's not. I'd prefer if it were $1.50 but for some reason I don't think you're going to give me that price.
What I really said in a chuckling voice: Um, do I have a choice? (she looks at me with a blank stare) Yeah, I didn't think so. So yes, that's fine.
Despite the price, the fig, prosciutto and fontina cheese baguette was delicious. I ended up saving the apple for later as I was pretty full from the baguette and veggies.
After landing in San Francisco, we had a 3 hour drive ahead of us. Ever wonder what the farms most of your produce from California look like? Drive south on 101 and you'll see this for miles.
Farm after farm after farm. We passed a handful of strawberry trucks, one with cauliflower and one with tomatoes. Next time I see Product of California stamped on my produce I can now visualize where it came from.
After getting to our destination, we had an amazing dinner at Artisan in Paso Robles. The restaurant has a focus on local, organic ingredients and the menu did not disappoint. It's almost an injustice to show you the crappy iPhone pictures of the delicious food.
We started with BBQ'd pork belly with charred watermelon and a pickled rind and morel mushroom toast with a poached egg and pancetta.
This was the first time I've had pork belly. It was delicious and I'm glad I tried it but, the fatty texture isn't really my thing. The morel mushroom toast however, was outstanding. I'm pretty sure the toast was brioche and the buttery flavor of the toast with the mushrooms and runny egg was quite possibly the best thing I've eaten in a long time.
For our entrees I had the grilled swordfish with caramelized fennel, olives, chickpeas and gremolata.
And my coworker had the wild boar tenderloin with braised pig cheeks over an english pea risotto.
Dessert was a given when I saw the menu online earlier.
Crème brulee + bacon? Yes, please!
The crème brulee trio was probably the most unique dessert I've ever had. The maple bacon flavored one was my favorite. Shocking, I know. The chipotle chocolate was a great balance between sweet & spicy and the sweet corn was just, interesting. It literally tasted like creamed corn. A little too savory to eat the whole thing but, really interesting as a dessert flavor combination.
Eating on the road can be difficult (and disgusting sometimes) but this was definitely one of the better days. Hopefully, I can keep it up for the next 2!
Have you ever tried pork belly? If so, did you like it?
What are some of your tips for eating well (both healthy & yummy!) on the road? Mine is plan, plan, plan! People may think you're nuts when looking up places to eat ahead of a trip, I think it's just well prepared.